Manx GP Qualifying 3 & 4 – 24 August
Busy day today with an unprecedented double practice in one day, giving us the possibility of 4 laps around the mountain course.
The day didn't dawn promising though, with The Island cloaked in cloud and it was raining, with the prospect of more rain throughout the morning. The weather here does change quickly though and by 10am things were looking far more encouraging.
As there was not much to do on Trudie, Matt fired up his laptop and started playing with both our ECUs. He was tapping away like some crazed nerdy hacker, letting out the occasional expletive or mumbling words of encouragement to himself. I must confess to not understanding this side of things, leaving me completely dumbfounded. Anything more than the basics leaves me standing there like a rabbit in the headlights about to meet its respective maker.
Matt finally announced "I've cracked it!"
We gave a little cheer, then he added, "I think". The little bugger, haha!!!!
After a quick putting things back together, it was time to see if she fired up. Trudie did, first time, ticked over happily and revved cleanly sounding sweeter than before. Matt had reconfigured the standard ECU, clever lad.
We didn't have to wait long to find out for sure, as within 2 hours Rik was off on his way down Bray Hill starting his first lap of the day. We impatiently waited for his first sector time at Glen Helen, it was a long five 5.23. When Rik popped up, there was a collective "yesssss". That eased the tension a little and we could all breathe again.
We tracked his progress through each sector and he came by us through the start/finish exactly on 21 minutes, a 107 mph lap. We've now met the qualification requirements of 5 laps with at least one of 105 mph. Fantastic.
Trudie did look slow by comparison and the speed trap time of 140mph gave us confirmation. Slower than our 400 Honda which was regularly over 141 mph. Still work to do then on Trudie!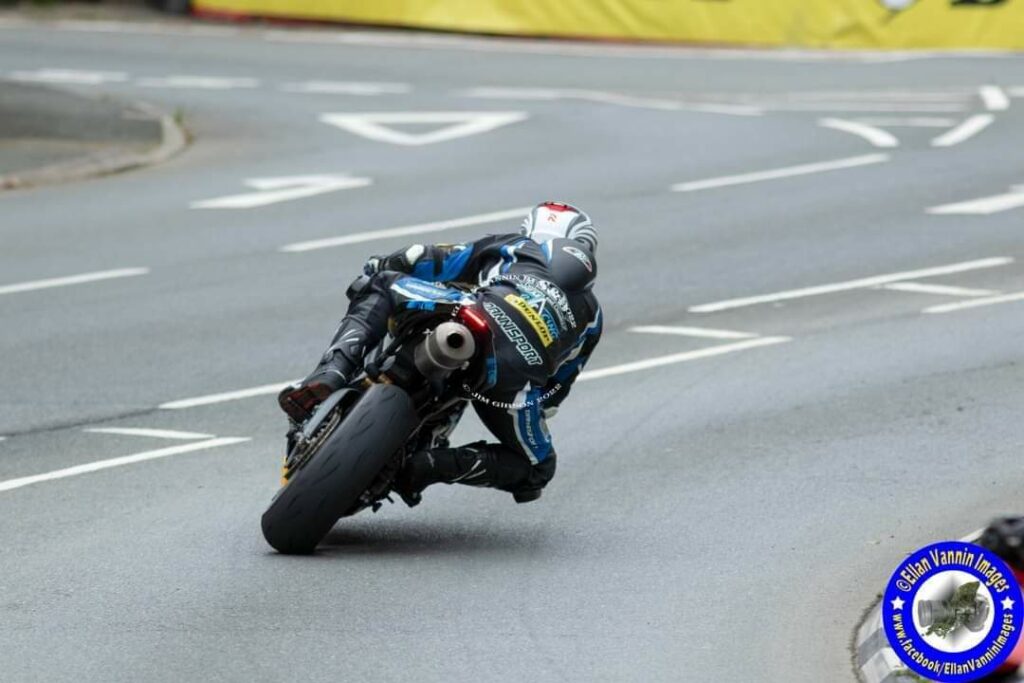 The second lap was much improved returning a speed of 109.2, Rik's fastest of the week so far. Excellent. That second lap was only 12 seconds slower than his fastest-ever lap here, so he's close to new experiences.
We opted to leave Trudie in Parc Fermé for the afternoon, between sessions, as all looked good. All that was required was some fuel and a good clean which could be done later. So it was all back to base for a debrief and some R&R.
There's a benefit here, with Trudie not being 'an animal' to tame. Rik's been away for 4 years now and there are changes on the course so they're basically learning the course together at a comparatively slow pace. Which is nice.
During the break we had a visit from Michael Russell, a very experienced TT rider who gave us some advice about gearing. As well as a good catch-up chat, as we'd not seen him since TT 2018, he said to put a smaller rear sprocket on, so that's what we did. Matt and I went up to Parc Fermé, changed the gearing, gave Trudie a clean, fuelled up and switched on the tyre warmers. She was ready for the evening session at 18.20.
We leisurely meandered our way back to Parc Fermé at 18.00, taking in the sights and enjoying the warmish Manx evening just expecting to go through the usual pre-practice routine.
It was going fine until Rik switched on, which started the fuel pump which pumps fuel, usually inside, but not this evening. The fuel pipe had split and petrol was pumped all over the engine. Bugger.
Time for one of Trudie's little spats, just to keep us grounded. Funny really as we were saying, this very afternoon that "she must like it here as she's been very well behaved." Clearly, she was upset at being left alone all afternoon, a bit like my dog, Mia haha!!! No real panic as it was an easy fix and she was soon sorted. By which time Rik was called up onto Glencrutchery Road to start his 2 laps.
These were again steady at 107 and an estimated 109 as it was a short lap. Bike and rider returned in fine fettle, being 28th fastest out of 60, so we're moving forward.
Booked in for the Dyno Thursday morning, which should sort out the fuelling and give us more top speed.
Qualifying 3 Results
| LAP | SPEED | DISTANCE | TIME |
| --- | --- | --- | --- |
| 2 | 109.26 mph | 37.73 miles | 20:43.138 |
| L1 | 107.21 mph | 21:06.937 |
| --- | --- | --- |
| | Sector 1 | 05:16.639 |
| | Sector 2 | 03:51.799 |
| | Sector 3 | 04:03.500 |
| | Sector 4 | 03:58.406 |
| | Sector 5 | 02:45.723 |
| | Sector 6 | 01:10.869 |
| L2 | 109.26 mph | 20:43.138 |
| --- | --- | --- |
| | Sector 1 | 05:09.169 |
| | Sector 2 | 03:45.456 |
| | Sector 3 | 04:04.261 |
| | Sector 4 | 03:51.700 |
| | Sector 5 | 02:43.504 |
| | Sector 6 | 01:09.045 |
Qualifying 4 Results
| LAP | SPEED | DISTANCE | TIME |
| --- | --- | --- | --- |
| 2 | 108.75 mph | 37.73 miles | 20:48.942 |
| L1 | 107.77 mph | 21:00.302 |
| --- | --- | --- |
| | Sector 1 | 05:16.313 |
| | Sector 2 | 03:47.695 |
| | Sector 3 | 04:11.134 |
| | Sector 4 | 03:55.064 |
| | Sector 5 | 02:41.177 |
| | Sector 6 | 01:08.917 |
| L2 | 108.75 mph | 20:48.942 |
| --- | --- | --- |
| | Sector 1 | 05:09.811 |
| | Sector 2 | 03:48.421 |
| | Sector 3 | 03:59.105 |
| | Sector 4 | 03:56.097 |
| | Sector 5 | 02:40.433 |
| | Sector 6 | 01:15.074 |