Manx GP Qualifying 5 – 25 August
Matt and I were up with the seagulls at 5.45 am, ahead of what turned out to be a very busy day for one and all. One of those days that start off nice and relaxed, slowly building up momentum to a very high speed of work efficiency. Not quite panic, but close. We've all had them!
We had the Dyno booked for 9 am in an effort to sort out the mapping and gain some additional top speed. Matt prepared for that while I wrote up yesterday's report and we were outside the Dyno at 9 prompt.
It was deserted. After a quick chat it was decided that, just for politeness, we'd give him ( Ryan) another quarter of an hour before calling. It was rather pleasant though, basking in the early morning sunshine. By 20 past, still no show. After a couple of attempts, we eventually contacted Ryan and were told he would be another hour or so as he was due in a meeting with the officials here, at 10. We left Trudie parked outside and went back to camp for a tidy-up and cuppa. Which was nice.
Apart from the Dyno work, there was a fair bit of prep to do, including new tyres, before scrutineering at 4.30. I started to see the day becoming quite compact! I really do not like rushing things over here, for obvious reasons.
Back at the Dyno, Ryan was still in his meeting so to save time we thought it would be a good idea to warm Trudie up. This turned out to be very inspired, as when I switched her on, the petrol pump did it's thing, pumping petrol everywhere. More so than on the previous evening. I quickly switched her off.
Matt lifted the tank so we could have a better view, turned again and saw that the pipe had completely perished, right where we had made the repair. This was not a quick fix. The fuel pipe need to be replaced and a replacement had to be made. I went back to camp to find some suitable pipe for a temporary repair, found a piece and got back to Matt asap. We managed to cobble something together just as Ryan rocked up. Phew!!!!
He opened up and Trudie was pushed in, strapped down, wired in and started up. Time for me to make myself scarce. It's too much for my stress levels. I cannot bear to see my bikes thrashed to the point of destruction. In one case I've had an engine explode leaving debris scattered everywhere as well as hot oil. And they do go bang, believe me, followed by an eerie silence.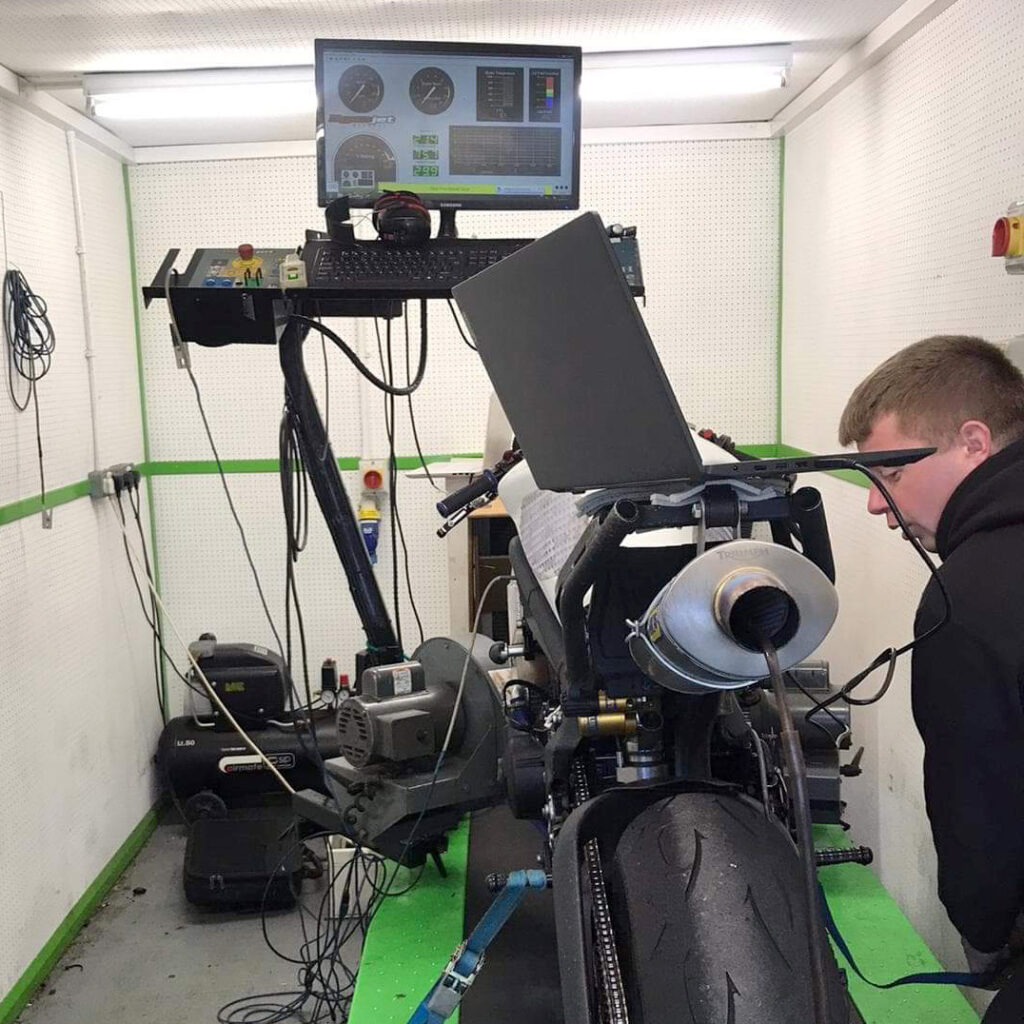 I went back to camp leaving Matt to experience his first ever Dyno work. He was impressed, rightly so as it's very impressive what can be gained. Also, Matt being Matt, got on well with Ryan and they had 'a bit of a crack,' so to speak.
It was different for me though. I had to endure the sound of Trudie being thrashed, even at a distance of 400 metres. It's a slow process. I lost count of how many runs but after an hour or so I thought/hoped we must be close to finishing and set off back with Rik and Sarah.
Halfway there Matt called to ask for assistance with all our gear that was there, he didn't sound excited. Surely not again. Yes again. Luckily not the engine but the clutch had exploded. This is not good but better to happen now than in the race and even better not to happen at all.
"Oh bloody hell, here we go again!"
It was now 12.30, four hours before scrutineering. It was going to be a tough afternoon.
Ryan was very apologetic even though it's not his fault. These things happen! He said he had a second-hand Sigma clutch if we need to buy one. Back at base, it took a good half hour before Trudie could be worked on. I needed to get off-site to buy some reinforced petrol pipe and our neighbour offered a lift, so I left the guys to do what needed to be done. We did drain the oil though.
In my absence, Matt and Rik had managed to open up the clutch to find that a bolt retaining one of the springs had failed, popped out with the spring and got munched to pieces by the high-revving Triumph engine. They couldn't find every bit of it so had to drop the sump in the hope the pieces were tucked away in a corner. They were, every single missing bit.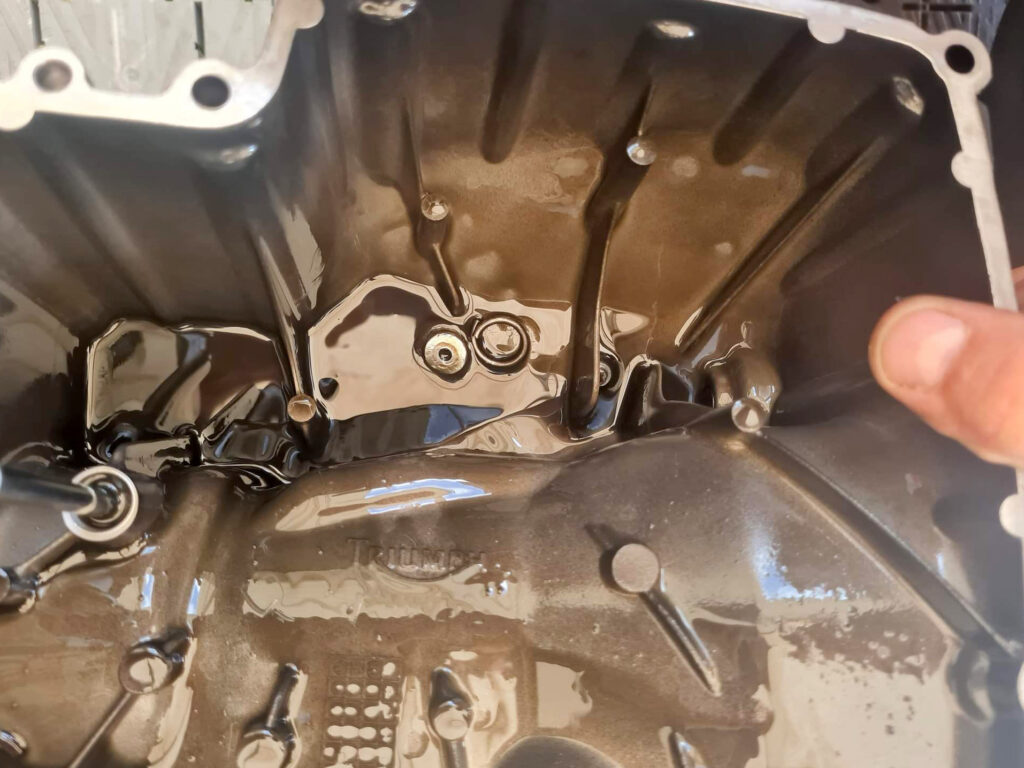 We couldn't work out how they got there without damaging, at least, the oil pump chain and we wouldn't know for sure until Trudie was repaired. Fingers crossed, ay?
She also need to go back on the Dyno as Ryan hadn't finished because one of our ECU'S crashed just as he was about to finish loading a suitable MAP, so the whole process had to start again using the standard ECU and then the clutch gave out.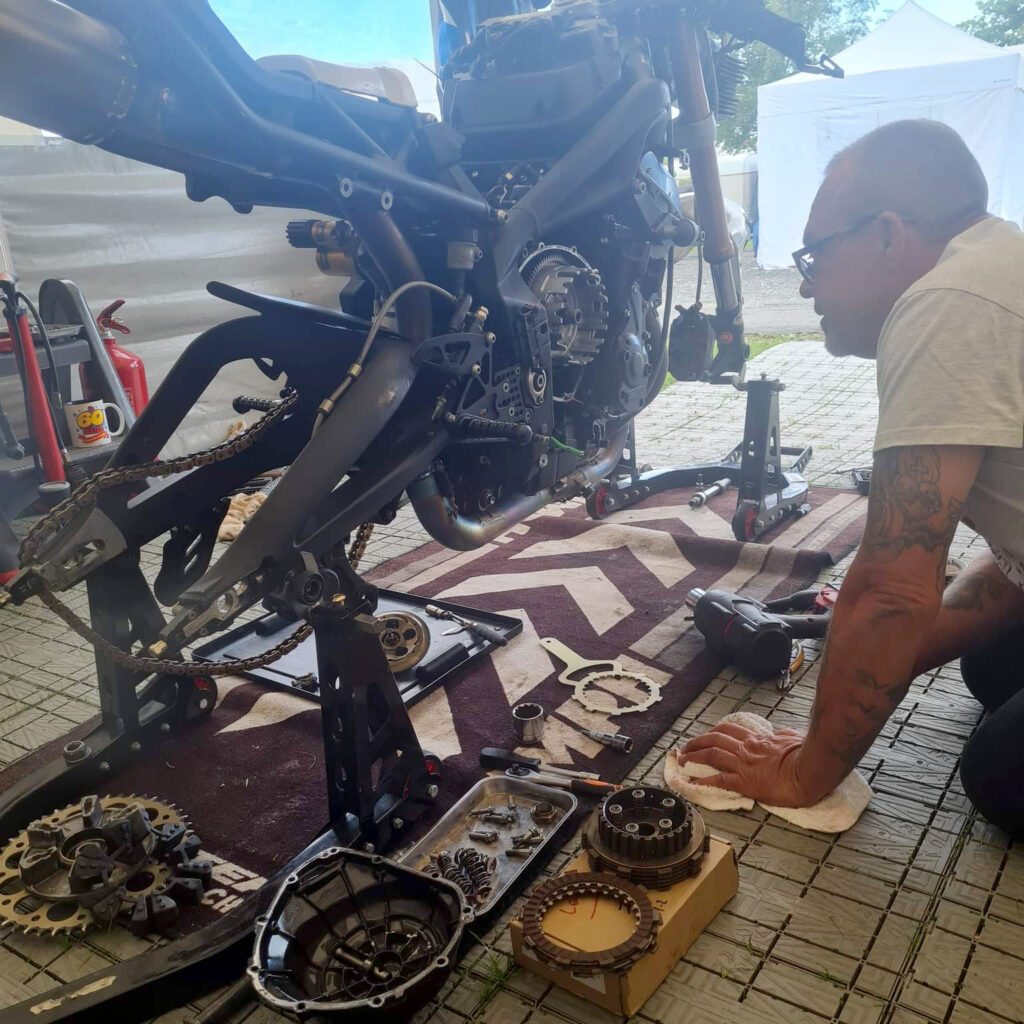 We needed to get done before 17.30. At precisely 16.40 Trudie was fired up and to our delight sounded sweet, we'd been lucky, and were back up to see Ryan five minutes later.
Still cutting it fine for scrutineering though, so I popped along to see them and explained we'd be rather late today.
"That's ok, you've got till the start of practice at 18.20."
For once I wished for a delay. Ryan set Trudie up with a basic MAP just to get us out and wants to do more, possibly Saturday. Eeeek!!!!!!
We got to the scrutineers at 18.10, just as an announcement came over that there would be a 10-minute delay. This news was very handy as a footrest had worked loose, Matt quickly sorted it though, so we were parked up, with the tyres warmers on by 20 past giving just enough time to get some heat into the new tyres.
Rik did 2 more laps of 107 and 109.9 but in one sector the waved yellow flags were out for the whole session and I calculated that the second lap would've been on 111mph. It's not official, but it's over his best-ever lap. He's now moving into unknown territory. Still no improvement on the top speed of 140mph though.
Qualifying 5 Results
| LAP | SPEED | DISTANCE | TIME |
| --- | --- | --- | --- |
| 2 | 109.38 mph | 37.73 miles | 20:41.837 |
| L1 | 107.26 mph | 21:06.359 |
| --- | --- | --- |
| | Sector 1 | 05:23.049 |
| | Sector 2 | 03:50.898 |
| | Sector 3 | 04:01.970 |
| | Sector 4 | 03:56.805 |
| | Sector 5 | 02:42.500 |
| | Sector 6 | 01:11.135 |
| L2 | 109.38 mph | 20:41.837 |
| --- | --- | --- |
| | Sector 1 | 05:13.147 |
| | Sector 2 | 03:46.266 |
| | Sector 3 | 03:57.652 |
| | Sector 4 | 03:51.712 |
| | Sector 5 | 02:41.054 |
| | Sector 6 | 01:12.004 |