Manx GP Qualifying 1 – 21 August
It was very fitting that we woke to a beautiful, sun-kissed morning, as today marks the culmination of nearly two years of work and planning. And the sun stayed with us all day long. It's the start of practice for next Monday's race.
I was up at six and spent the first hour typing up yesterday's adventures and going through our plan of action for the day. It really was pleasant with the morning sun warming my back.
Trudie was good to go except for fuel, tyre pressures and a last-minute polish with Mr Sheene (other polishes are available.) Which left us to sort out what we'd like to take to Parc Fermé after scrutineering at around 12.15.
All in all, it was quite a leisurely morning, with us due on track around 2pm. Our plan was to fuel up for 2 laps with Rik coming in after his first lap, regardless of whether everything was good. That way we could check Trudie over, make adjustments and have a chance to have a little chat about the lap. The length of the session meant it would be possible to get 4 laps in, so it would be silly not to take advantage of the glorious weather.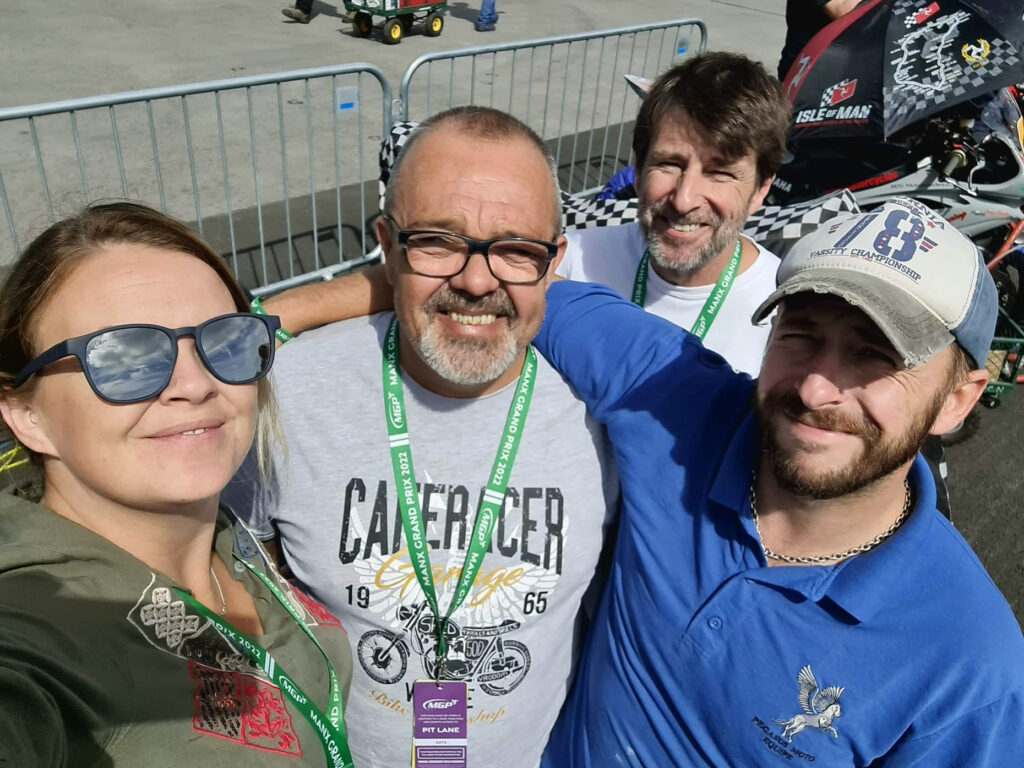 I must confess to being a little nervous, not only about the first practice, but the first scrutineering too. It was with much relief to see the scrutineer look favourably upon Trudie and she sailed through no problems. Then she was parked in Parc Fermé with warmers on to await the first session, about an hour away. Although, half an hour before the off there was an announcement of a 15 minutes delay, quickly followed by another announcement of a further 15 minutes delay which allowed me enough time for a little grandad nap, while the others amused themselves.
We'd be on track around 2.30pm. This had the knock-on effect of denying us a four-lap practice, so three it is. Sometimes it's good to have a decision made for you. I only needed a quick ten-minute power nap so we decided to head up to Parc Fermé to absorb some of the energy around and about the start line.
Good job we did as our extension lead servicing the warmers had overheated and tripped resulting in stone cold tyres. It was an easy fix, with enough time left to put sufficient heat into the tyres, but it served as a warning to keep an eye on things in the future.
That last few minutes before first practice is always the most stressful for me, always has been. Not so much about Rik, but whether the bike I built would hold together, which is only natural I suppose.
Before long we had the call to be on Glencrutchery Road, and literally 2 minutes later, Rik was off down Bray Hill on the start of his first ever lap on a 600.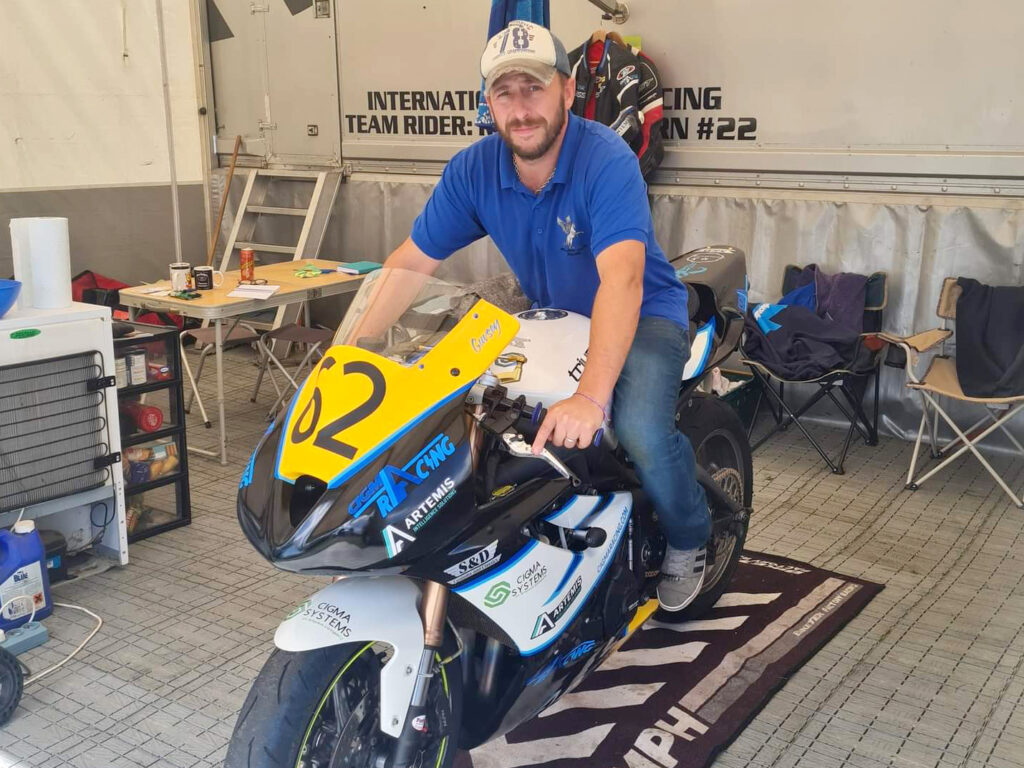 This is Sarah and Matt's first experience of racing here and despite having the live timing they struggled with the fact that Rik was out of sight for 99.9% of the time. Once we master the live timing I'm hoping it will get a little easier for them to track Rik's progress. I could follow him though by asking the guy next to us. With each sector completed my stress level reduced accordingly, passing on the good news to the others.
Close to the end of that first lap, I got Sarah and Matt up to the road to watch him come through then up the return road, where I directed him to where we had set up for our pit stop. Matt did the stands and Rik got off, removed his helmet and said, 'the bike's slow,' and asked how fast through the speed trap. I didn't know.
Now at the time, I took that as a good sign. It meant, to me, that he's riding well within himself, and the lap was ok at 103 mph, but he literally meant the bike is slow in a straight line. In theory, she's geared for 151 mph top speed but the penny didn't drop for me until after the session and a proper debrief.
Back to the action! While Rik was having a drink and chat with Sarah, Matt and I gave Trudie a quick check-over and couldn't find anything amiss. Happy days. I asked about handling. Now Rik must've been thinking about this as he was riding round because his response was fast, 'soften the front, two clicks on each and back off the rebound on the back'.
I did that, then put on the new fireproof gear, grabbed our petrol filler and filled the tank. I told Rik to get his lid on but he had forgotten his ear plugs for that first lap and Sarah had gone to fetch them.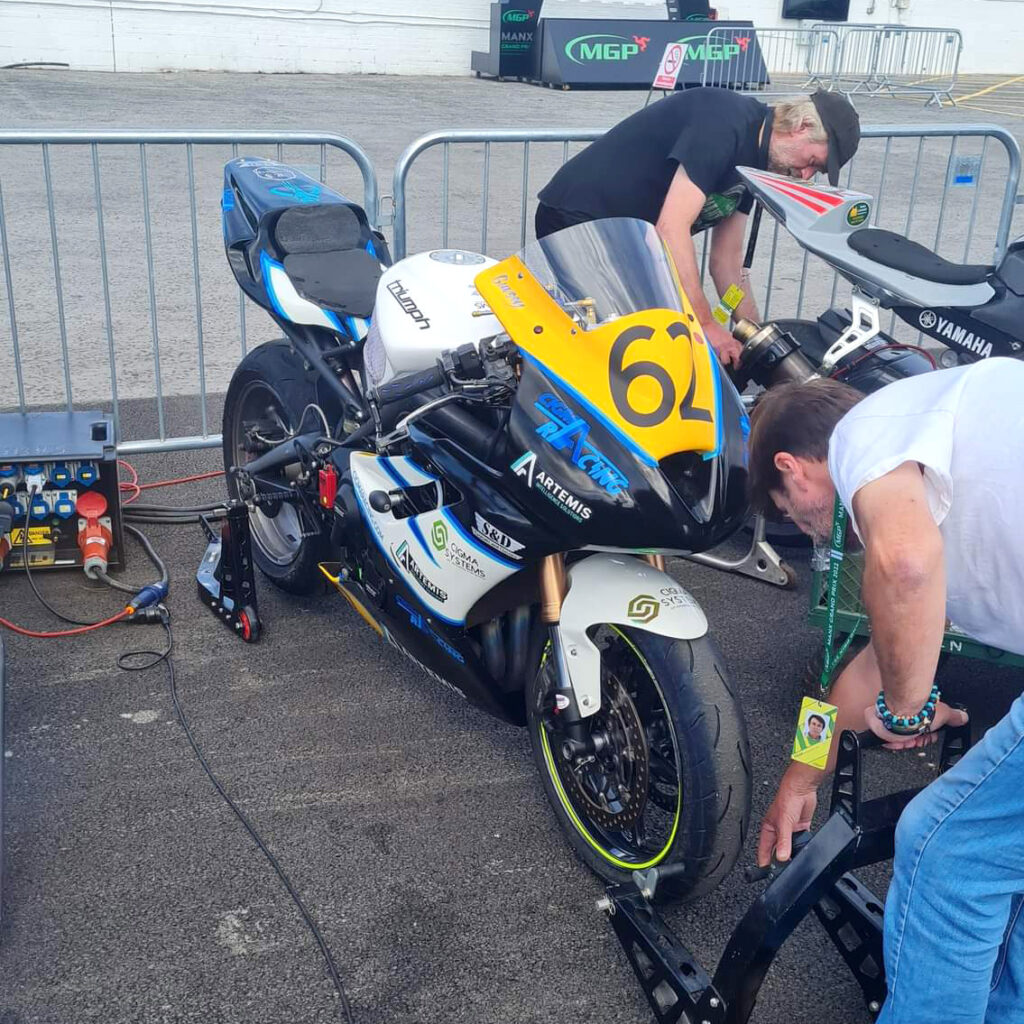 'Ok, no worries,' I said. We had plenty of time. Sarah came back and Rik was soon on his way with the instructions to come in again if the suspension is not improved. After 21 minutes or so he came through for his first flying lap to start his third lap. Excellent.
104.6 mph was the lap speed. Not bad, I'm happy with that. The live timing completely crashed just after that, so I had to guess roughly where he would be by counting down the minutes.
After 15 minutes the red flags went out with an announcement that there had been an incident in the first sector. I told Sarah not to worry as Rik would be on the mountain section by now, probably stopped at The Bungalow. In fact, he was a little further back at Mountain Box, which is where I had my big off in 1994. We just had to wait then until the riders were brought back in behind a travelling marshal, which took a very long three-quarters of an hour.
Rik was happy with the changes we made and said we need to go a little softer front and rear. We may well have to stiffen it all up again as his speeds increase, but for now, we're good. Trudie recorded a top speed of 135 mph, 20 mph down on what we're expecting. It's nothing major, we just need some Dyno time.
More importantly, Trudie came back looking almost as good as she went out, Rik was happy and enjoyed himself. His big grin proved that! We now have a good foundation on which to build.
Qualifying 1 Results
| LAP | SPEED | DISTANCE | TIME |
| --- | --- | --- | --- |
| 2 | 104.51 mph | 37.73 miles | 21:39.654 |
| L1 | 102.38 mph | 22:06.646 |
| --- | --- | --- |
| | Sector 1 | 05:37.323 |
| | Sector 2 | 04:04.189 |
| | Sector 3 | 04:18.287 |
| | Sector 4 | 04:04.820 |
| | Sector 5 | 02:49.359 |
| | Sector 6 | 01:12.665 |
| L2 | 104.51 mph | 21:39.654 |
| --- | --- | --- |
| | Sector 1 | 05:27.932 |
| | Sector 2 | 03:57.810 |
| | Sector 3 | 04:14.683 |
| | Sector 4 | 04:00.315 |
| | Sector 5 | 02:47.793 |
| | Sector 6 | 01:11.118 |
| L3 | 34.60 mph | 05:26.034 |
| --- | --- | --- |
| | Sector 1 | 05:22.491 |
| | Sector 2 | 03:56.750 |
| | Sector 3 | 04:08.530 |
| | Sector 4 | 46:17.442 |
| | Sector 5 | 03:33.163 |
| | Sector 6 | 02:07.655 |