The team turned up early to Silverstone for Round 1 of the British Junior Supersport on the National Circuit.
Thursday was a test day and as Nathan-Ellis has had limited time on the bike, it seemed like a good idea to make the most of it. The weather, unfortunately, did not agree. Lots of rain made the first session a very different test, but still valuable to learn the track and get a wet setup working. The track slowly dried throughout the rest of the day and the lap times steadily improved too.
Friday morning bought another test and still improving times, but only for 10 laps as the tyres would need to be kept in good condition for the race. Next up was qualifying and Nathan-Ellis managed to bring it in for a 23rd place start for Race 1.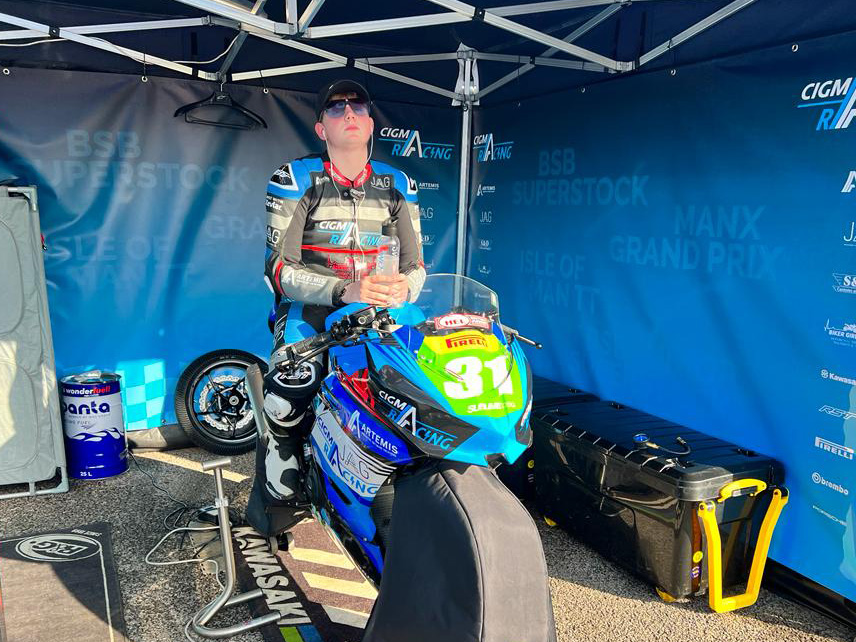 Nathan-Ellis needed a good start to improve on his grid slot, and he got one, jumping up 5 places by the end of lap 1. The battles were close in the middle of the pack and places were swapped around throughout the race. A final push meant that Nathan-Ellis finished Race 1 in 19th place.
"I had a good start and loads of battles and finished 19th," Nathan-Ellis said. "My times put me on the grid for Race 2 at 28th because the racing slowed me down."
Nathan-Ellis got another great start for Race 2, going from 28th to 18th by the end of lap 1. Another fast and close race followed with Nathan-Ellis steadily climbing through the field to finish the race in an incredible 11th place. The first points of the season are safely in the bag!
"I had some amazing battles with some very talented riders. I enjoyed every minute of the weekend and would like to thank Cigma Racing and everyone that's helped me this weekend as I learned so much, but I still have a lot more to learn!"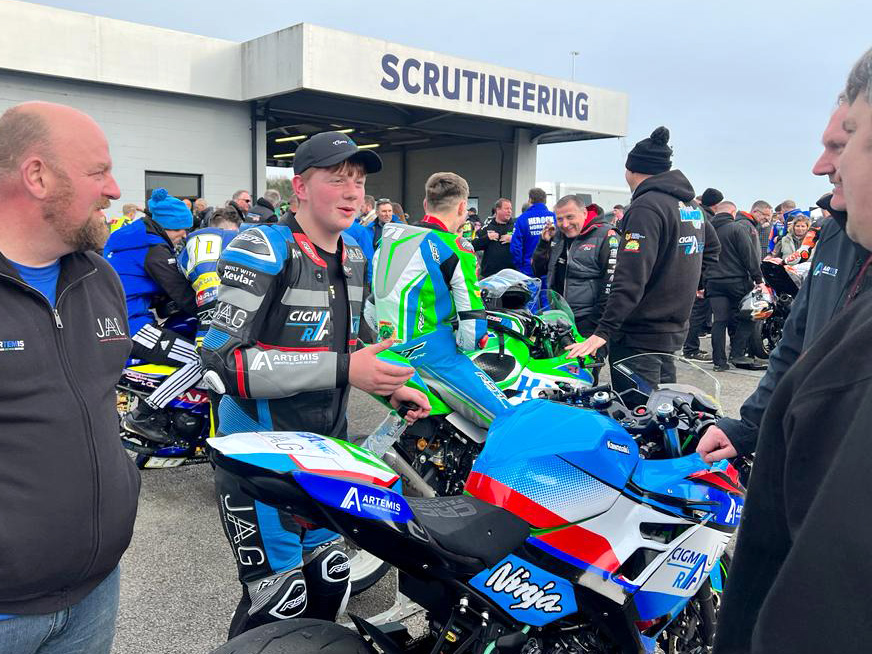 "Thanks again to everyone at Cigma Racing, my family and friends, and for all the good luck wishes received. Can't wait for the next round at Donington and to continue to learn with the Cigma team."
Considering that Nathan-Ellis has so far ridden the new bike for a grand total of 3 hours and 1 minute, we can't wait to see what he can do when he really gets to grips with it.
British Junior Supersport Championship Standings after Round 1
| Position | Rider | Points |
| --- | --- | --- |
| 1 | Lewis JONES (Kawasaki) | 44 |
| 2 | Finn SMART-WEEDEN (Kawasaki) | 43 |
| 3 | Jacob STEPHENSON (Kawasaki) | 37 |
| 4 | Jack KIRSCH (Kawasaki) | 36 |
| 5 | Kalvin KELLY (Kawasaki) | 34 |
| 6 | Lennon DOCHERTY (Kawasaki) | 30 |
| 7 | Calum BEACH (Kawasaki) | 30 |
| 8 | Jack SMITH (Kawasaki) | 16 |
| 9 | Adam BROWN (Kawasaki) | 16 |
| 10 | Joe ELLIS (Kawasaki) | 13 |
| 11 | Maximus HARDY (Kawasaki) | 7 |
| 12 | Rossi DOBSON (Kawasaki) | 7 |
| 13 | Chloe JONES (Kawasaki) | 7 |
| 14 | Nathan-Ellis WARD (Kawasaki) | 5 |
| 15 | Abbz THOMAS (Kawasaki) | 4 |
| 16 | Jamie HANKS-ELLIOTT (Kawasaki) | 3 |
RACE 1 RESULTS
| Position | Number | Rider | Time | MPH | Best Lap |
| --- | --- | --- | --- | --- | --- |
| 1 | 67 | Jacob STEPHENSON | 16:25.350 | 89.9 | 1:04.773 |
| 2 | 3 | Lewis JONES | 16:25.494 | 89.88 | 1:04.892 |
| 3 | 90 | Kalvin KELLY | 16:25.618 | 89.87 | 1:04.663 |
| 4 | 74 | Finn SMART-WEEDEN | 16:25.636 | 89.87 | 1:04.701 |
| 5 | 7 | Jack KIRSCH | 16:25.778 | 89.86 | 1:04.759 |
| 6 | 27 | Calum BEACH | 16:25.975 | 89.84 | 1:04.600 |
| 7 | 60 | Lennon DOCHERTY | 16:26.432 | 89.8 | 1:04.928 |
| 8 | 23 | Joe ELLIS | 16:26.480 | 89.79 | 1:04.841 |
| 9 | 33 | Adam BROWN | 16:26.572 | 89.79 | 1:04.774 |
| 10 | 44 | Jack SMITH | 16:26.858 | 89.76 | 1:04.748 |
| 11 | 66 | Rossi DOBSON | 16:26.934 | 89.75 | 1:05.123 |
| 12 | 88 | Abbz THOMAS | 16:27.482 | 89.7 | 1:04.992 |
| 13 | 15 | Chloe JONES | 16:28.062 | 89.65 | 1:05.065 |
| 14 | 16 | Jamie HANKS-ELLIOTT | 16:33.980 | 89.12 | 1:05.578 |
| 15 | 71 | Maximus HARDY | 16:38.052 | 88.75 | 1:05.580 |
| 16 | 32 | Lewis SMART | 16:43.936 | 88.23 | 1:06.057 |
| 17 | 72 | Samuel MUNSON | 16:44.194 | 88.21 | 1:06.280 |
| 18 | 95 | Greg MARSHALL | 16:44.283 | 88.2 | 1:06.231 |
| 19 | 31 | Nathan-Ellis WARD | 16:44.617 | 88.17 | 1:06.441 |
| 20 | 75 | Aaron LILLY | 16:44.689 | 88.17 | 1:06.281 |
| 21 | 61 | Freddy OAKLEY | 16:44.889 | 88.15 | 1:06.220 |
| 22 | 39 | Aaron MONK | 16:45.019 | 88.14 | 1:05.997 |
| 23 | 6 | Jack KNIGHTS | 16:45.372 | 88.11 | 1:06.124 |
| 24 | 80 | Rossi BROWN | 16:55.529 | 87.23 | 1:06.666 |
| 25 | 99 | James CLEARY | 16:57.781 | 87.03 | 1:06.587 |
| 26 | 51 | Holly HARRIS | 17:09.028 | 86.08 | 1:07.670 |
| 27 | 41 | Scarlett ROBINSON | 17:23.476 | 84.89 | 1:08.344 |
| 28 | 9 | Will GRANT | 17:24.793 | 84.78 | 1:08.386 |
RACE 2 RESULTS
| | | | | | |
| --- | --- | --- | --- | --- | --- |
| 1 | 74 | Finn SMART-WEEDEN | 16:22.253 | 90.18 | 1:04.576 |
| 2 | 3 | Lewis JONES | 16:22.317 | 90.17 | 1:04.936 |
| 3 | 7 | Jack KIRSCH | 16:22.336 | 90.17 | 1:04.619 |
| 4 | 60 | Lennon DOCHERTY | 16:22.439 | 90.16 | 1:04.650 |
| 5 | 27 | Calum BEACH | 16:22.869 | 90.12 | 1:04.943 |
| 6 | 90 | Kalvin KELLY | 16:22.986 | 90.11 | 1:04.828 |
| 7 | 67 | Jacob STEPHENSON | 16:23.010 | 90.11 | 1:04.691 |
| 8 | 44 | Jack SMITH | 16:23.330 | 90.08 | 1:04.813 |
| 9 | 33 | Adam BROWN | 16:27.929 | 89.66 | 1:04.970 |
| 10 | 71 | Maximus HARDY | 16:35.806 | 88.95 | 1:05.536 |
| 11 | 31 | Nathan-Ellis WARD | 16:35.878 | 88.95 | 1:05.451 |
| 12 | 15 | Chloe JONES | 16:35.965 | 88.94 | 1:05.719 |
| 13 | 23 | Joe ELLIS | 16:36.065 | 88.93 | 1:05.766 |
| 14 | 66 | Rossi DOBSON | 16:36.312 | 88.91 | 1:05.305 |
| 15 | 16 | Jamie HANKS-ELLIOTT | 16:36.363 | 88.9 | 1:05.428 |
| 16 | 72 | Samuel MUNSON | 16:36.485 | 88.89 | 1:05.200 |
| 17 | 88 | Abbz THOMAS | 16:36.628 | 88.88 | 1:05.330 |
| 18 | 39 | Aaron MONK | 16:36.954 | 88.85 | 1:05.646 |
| 19 | 32 | Lewis SMART | 16:44.049 | 88.22 | 1:06.208 |
| 20 | 96 | Floris SCHIPPER | 16:44.391 | 88.19 | 1:05.740 |
| 21 | 8 | Denise DAL ZOTTO | 16:44.630 | 88.17 | 1:05.919 |
| 22 | 81 | Keo WALKER | 16:46.926 | 87.97 | 1:06.331 |
| 23 | 99 | James CLEARY | 17:00.917 | 86.76 | 1:07.126 |
| 24 | 80 | Rossi BROWN | 17:01.638 | 86.7 | 1:06.363 |
| 25 | 9 | Will GRANT | 17:10.872 | 85.93 | 1:07.655 |
| 26 | 75 | Aaron LILLY | 17:11.162 | 85.9 | 1:07.816 |
| 27 | 51 | Holly HARRIS | 17:11.295 | 85.89 | 1:07.780 |
| 28 | 41 | Scarlett ROBINSON | 17:11.557 | 85.87 | 1:07.501 |