Team Member Profile
Nathan-Ellis Ward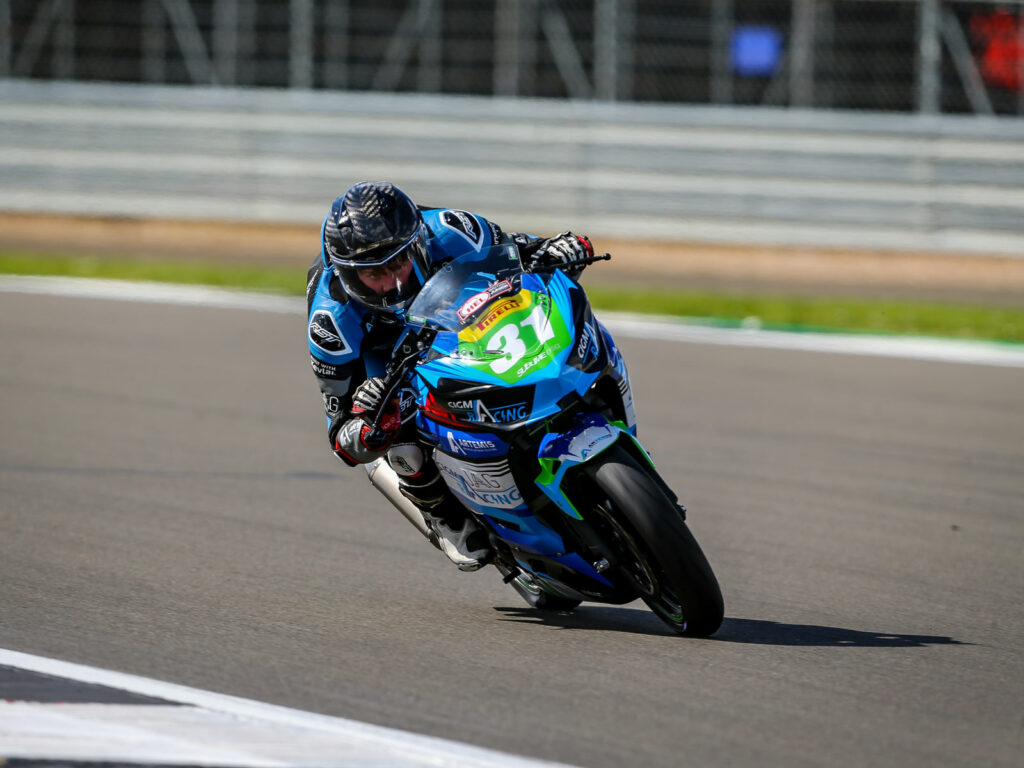 About
Nathan-Ellis or Nellis got his start riding pit bikes in the Rich Energy British Minibike Championship.
In 2022 he competed in the ACU Team Green Junior Cup/Senior Ninja Series hosted by the British Motorcycle Racing Club (Bemsee). Nathan finished the season in 5th place after a tight season across 8 rounds.
In 2023 Nathan moved into the British Junior Supersport Championship. This series runs at the British Superbikes events across the year, giving valuable experience at a major British motorsport event.
In his own words…
I started motorbiking at the very young age of 7 when one of my dad's friends brought a quad and asked us to go out with them. I really enjoyed it.

My mum and dad brought my first motocross bike after asking and asking. We were only able to find dirt tracks but I've always wanted to ride on the tarmac. So when I was 8, my mum and dad brought a 90cc pit bike and I rode in the British Minibikes championship. It was the only club I was able to ride in at that age.

I rode there for a couple of years, having a lot of fun and finding my feet with how the bike handled and how the motorbike racing life was. This resulted in getting a couple of podiums in my first year and moving up to the 140s class after the club allowed me to step up with the adults. I had a couple of wins and battled in the championship.

Unfortunately, I broke my collarbone whilst practising on a friend's Aprilia 125 and I thought 'that's me out!' My mum and dad were told about a specialist clinic in Ipswich. I managed to get some laser treatment which was mind-blowing. I was back out on my bike 7 days later.

I just missed out on finishing the season in the top 3 unfortunately, but onwards and upwards!

I asked my mum and dad for a bigger and faster bike, so they looked into another club and I was lucky enough to move up to a Kawasaki 300. I was entered into the Bemsee Preteens, but because of my age I was restricted to just 27 BHP instead of the 37 BHP that the older riders are allowed. All riders were on the same grid though, so I used this as a starting point to learn.

I rode with the others and kept up with them and even though I was on a slower bike, I gave it my all and pushed through. It paid off, as I won the last ever pre-teens class. The Trophy with my name on it, along with the previous winners (some great names on there too) will now go into a museum and I will hold that place in history.

With this still fresh in my mind and moving into the junior cup the next season, I knew I would have a full 37 BHP bike. I would be battling with some very talented riders, so it wasn't going to be easy! I knew I would have to start training hard to get my body and mind in the right place.

During the winter I trained really hard, both in the gym and swimming in the morning before school. This resulted in me losing 5 stone in weight and having a great mindset, ready for the season ahead.

The 2022 season has been full of ups and downs. With the help of the California riding school helping me with getting to know what I and the bike are capable of doing, and again creating the mindset, I got my first 3rd place at Brands hatch and my first 2nd at Donington. And all in my first proper season on the 300. It has made me want it even more, and to go for that 1st place spot.

Here is to the 2023 season! But one thing is for sure, I'm always learning and wanting more.
News
Follow the latest news about Nathan-Ellis Ward here.
The Cigma Racing team arrived in Scotland on Thursday, ready for the next round of the HEL British Junior Supersport at Knockhill. Free practice started well on Saturday morning with Nathan-Ellis getting his lap time down to 59.110 over the course of the session. With some adjustments made to the bike, he was hoping to…

Nathan-Ellis and the rest of the team arrived on Thursday to start getting prepared for Round 2 of the HEL British Junior Supersport at Donington Park. The races this weekend are taking place on the full track layout set in Leicestershire. Some of the other competitors in the Supersport are busy with GCSE Exams which…

The team turned up early to Silverstone for Round 1 of the British Junior Supersport on the National Circuit. Thursday was a test day and as Nathan-Ellis has had limited time on the bike, it seemed like a good idea to make the most of it. The weather, unfortunately, did not agree. Lots of rain…
Results
2022 Team Green Junior Cup – Final position 5th, with 2 podium finishes.
Rich Energy British Minibike Championship – 5th
Gallery