Circuit de Carole 9/10/11 July
Just about down to the wire again!!! To comply with the rules for WERC we've swapped the tuned engine for the standard one. The hold up was waiting for some special tools to arrive from the UK, to remove the ignition/magneto and the clutch. So that all done, the only other unknown was whether the ECU would be friendly with the new engine. Here we go!
On button, check. All dash lights, check. So far so good. The first job was to build up some oil pressure to push oil around all the little nooks and crannies. You would not believe how much oil is left in an engine after it's been drained. In the Triumphs' case, I estimate about 400ml. I hit the starter, and to much relief, she was turning over fine. I made the final connections, fitted the tank and fueled up. Then went and had a cuppa, by way of a little procrastination.
Back in the barn, I switched on and gingerly hit the starter. She lives! Fired up first time. ☺️ I let her idle a little to warm up then gently blipped the throttle. Music to my ears. She sounded so sweet still yet slightly different thanks to the new Arrow exhaust. I did three heat cycles over the next few hours in the hope that the fault code light would reset. Nope, oh well, we'll have to go with it. As I'm writing this I can now confirm we, hopefully, have the necessary ODB reader to plug in and find the fault before the next race on the 24th of July.
Anyhow back to the story, where was I? Oh yes! That was two days before departure, the only job left to do was to fit the new radiator when it arrives. Which it duly did the following day and was fitted easily with no problems. The Team arrived early Thursday evening to load the truck and we were on the road by 10.30pm, with 336kms ahead of us which incorporated the dreaded Parisian Peripherique necessitating the use of the sat nav on Rik's phone. Until then he and Sarah slept most of the way while Matt was in the front 'big boys' seat keeping me company. He was a tad excited, this being his first ever race meeting as a competitor. ☺️
We were counting down the Kms, which seemed to disappear quite rapidly, and were approaching Paris about 3.30am, not bad. Matt had woken Rik who had fired up the Sat nav. I have a distrust of them when driving the truck as a couple of times it's sent us onto very small roads. We all noticed how busy it was, where are they all going? We could only guess, but it made driving interesting to say the least. To cap it off the main A3 was closed for maintenance. Bugger, now this made it very interesting!
Rik was shouting directions which took us to the Inner Peripherique, bad enough in a car let alone a 7.5-tonne truck but I rose to the challenge and clicked into race mode in the hope that everyone else would worry about us. The route was fast and furious, with adrenalin pumping I was taking no prisoners, wildly grinning like Jack Nicholson in 'The Shining'. Matt however was extremely uncomfortable with this predicament and continually swore, Rik was shouting directions after making sure we were not going into the Parisian Suburbs and not phased a bit. Sarah? Well, Sarah was asleep and missed the fun. For a little more spice the brakes are somewhat sluggish at best, keeping me focussed and very much awake. Lane changing, hooting, swearing, laughing it was all getting too much. Then there was a collective sigh of relief when we saw a sign to Circuit de Carole indicating only 4Kms to go. Sarah had just woken up at this point.
We pulled up at the gate, just after 5am. It was locked. I jumped out of the truck, still a little manic, to see if a way in was possible. Just as I approached the gate, the quiet of dawn was broken with the deepest and loudest dog bark. Well I assumed it was a dog, Hogwarts sprang to mind. ☺️ I could see nothing and with 'the thing' still barking, a shout went up even louder, then silence, which was broken briefly by a disembodied grumble of "entre a six heure". Loosely translated for the hard of hearing to "bog off and come back at six". There was another quieter bark which translated as "you woke us up, you bastard".
I hopped back into the driver's seat to relay the news. We decided that as a third of the truck was in the road it could be a little unsafe, so we went for a little drive. Quite literally around the block, to park up outside the gate, sort of off the road. In that time about 5 minutes later another competitor had arrived and had managed to lure the security guard, a big chap, from his lair, obviously persuading him it was a good idea to open the gate. 'The Thing' gave another bark as I approach, politely asking if we could also come in. He said yes, but in French, and told me to park over there, pointing to a place ten yards or so away, emphasising not to drive into the paddock until 6. I wasn't going to argue and we parked up and had a little snooze. My snooze was littler than the others and just as daylight was peeking over the horizon I went for a short reconnoitre of the paddock and facilities. I was not pleased with what I saw, or rather didn't see, a place to set up camp for the weekend and grumpily returned to the truck, threatening, to myself, we'd go back home if we couldn't get in. Matt had woken up so I told him the news and still grumpy said aloud my threat, Matt laughed and took 'the piss' all weekend about it, haha!!
The security guy came over and sent us to another paddock which I had not seen as it's out of sight hidden by a small hill, which brightened my mood. Off we go to have a look, I must say it's not designed for trucks and a tad dilapidated. Once we'd managed to squeeze in over on the far side, hook up and set out the camp, it turned out pretty damn good.
Rik was due out at 9am for the first of three sessions in the day and before we knew it he was off to the collecting area. Matt, Sarah and I found a pretty good vantage point enabling us to see at least half of the lap and with a little anxiety, watched Rik join the circuit. By the time he'd reached our viewing point, it was obvious that all was good with the engine. It was a good shakedown session with no real problems, apart from a binding front brake and lack of grip from the rear tyre. Matt jumped on the calipers for a more comprehensive clean and service, while I changed the rear wheel for one with a decent tyre. Sarah made tea and took photos, Rik drank tea and chilled. The bike was then cleaned and refuelled for the next session.
The same as before, Rik went out and we found our spectators spot, he was speeding up, looking more comfortable, but it was obvious we were down on power. Maybe the bike does need setting up properly on a dyno? Couldn't be done this weekend so we had to make the best of it. Still a good session though. For the third session, I wanted to try lowering the yoke down the forks as it should help to make the bike steer quicker. We decided 3mm would be a good starting point. Midway through this operation, the front stand gave way. Now clearly this is not ideal with the forks loose in the yokes, and poor Trudie slumped to the floor, putting a little debt in the Arrow exhaust.
After a moment's panic, the three of us managed to redeem the situation. Rik and Matt stood on either side with a handhold on the frame, but the front of the bike gets heavy after a while! They were beginning to struggle as I was fumbling the job of tightening stuff up, so we formulated a plan B to finish the job. Rik worked out a way of doing one fork leg at a time using some muscle, the normal front stand and me on spanners.
As it turned out, the effort was justified when Rik reported an improvement after the 3rd session, which also saw an improvement in lap times. There's one specific corner called The Paraboliquer, leading onto the back straight, which was giving Rik a problem to perfect. From at least half way round you need to be right on the power with the rear of the bike squirming and fighting for grip, a new challenge for our intrepid pilot. Still, there are two qualifying sessions before the race, so there's time. Lance popped in for a cuppa and some pointers that evening, as Carole is just about his local circuit and he knows it well. For a Frenchman, he doesn't half drink some tea!
To make up for being down a little on power, we prayed for rain that night. Our prayers were answered in the morning. I went to the Dunlop tent to buy a new wet rear tyre only to find a rather long queue. We were due on track in an hour at 8.30 so there was some time. I decided to wait patiently till 8 then would have to indulge in some queue jumping. Thomas, the Dunlop guy, from Navarra was there. Our eyes meet through the crowds and I took the opportunity to go and have a word. The tyre was fitted in 5 minutes. Sorted. ☺️
Rik finished the qualifying in 4th, a great result and he looked so at home with the whole set-up. It's amazing how rapidly things can change, as for the next qualifier the conditions had become that no man's land between wet and dry. Rik was undecided in tyres and was not happy when he went out. It showed straight away as he tensed up and couldn't get into a decent rhythm. He finished 17th, complaining that it was sliding all over the place. Things like that happen on occasion and we put it down to experience. Rik did manage to get a practice start of sorts, better than Navarra at least. Our race was scheduled for mid-afternoon, with the weather keeping us guessing right up until the race was called up to the grid. Dry all round, but rain threatening. Dry tyres were the only option. It was the right choice.
The riders went out for the formation lap and took up their respective grid positions. They are then sent off for a warm-up lap, which is an opportunity for a bit of a practice start and it did look reasonably hopeful for us. It was, and Rik, although still last at the first corner, was right in touch. Try as he might, Rik could not better 14th position at the chequered flag. It really didn't reflect how well he rode which, for me, was very satisfying. Unfortunately, Rik didn't see it the same way and was very disappointed. Quite rightly, he's a racer! ☺️
We had our first one hour race to look forward to now, on Sunday, which happened to be my birthday. As in Navarra, there was a small party organised, with another barrel of punch and a live rock band, who were, pretty damn good. Rik and Sarah managed to catch the last few numbers, after being whisked away to go shopping. But they missed out on the punch, it had long gone. It was back to camp for a late dinner with a couple of well-deserved beers.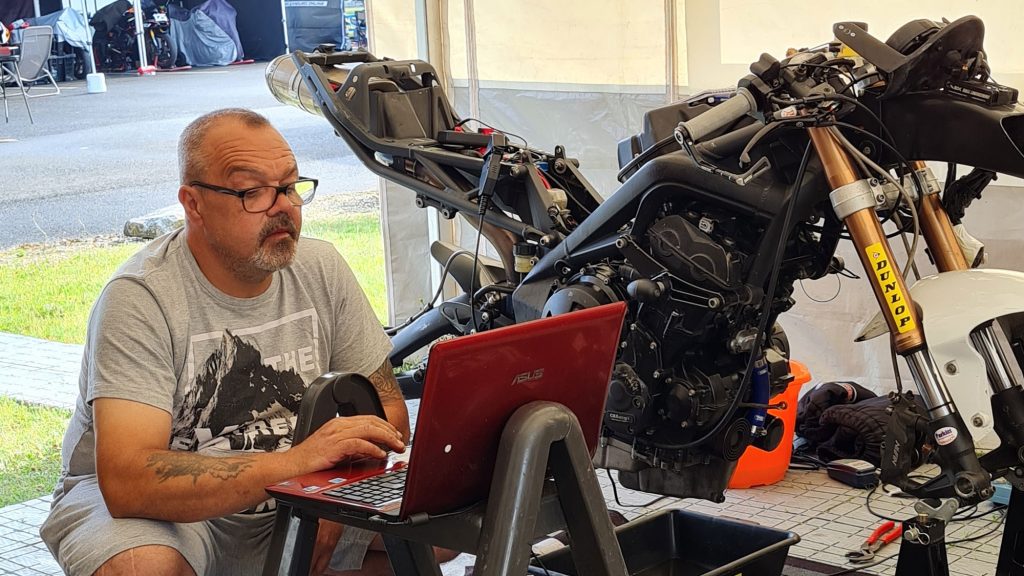 The race prep was put off till race day, as our race wasn't until 3 and we needed something to keep us occupied. First thing, I went off to see The Dunlop guys and buy some new rubber.Iit was a touch more relaxed than the previous day so, as best I could, I had a bit of a chat with them then meandered lazily back to the Truck. I was greeted with a chorus of Happy Birthday, initially from the guys, but they were soon accompanied by our neighbours. Embarrassed or what! They'd also 'birthday pimped' the awning with signs and balloons telling one and all I was 61 today. I was humbled and secretly enjoyed all the fuss haha!!! Rik presented me with a bag of pressies and a little chocolate birthday cake, one of those volcano things that erupt with runny chocolate when you sink your teeth into it, spreading the contents everywhere. Lovely! ☺️ Lances' mum also popped in and gave me a birthday bottle of red, which was nice. ☺️ It was a good day.
I will confess to feeling a bit nervous for the race, not really knowing what to expect and all that, but soon settled once we'd started work on the bike. It took us a couple of hours, leaving lots of time to practice the pit stop and sort out our protective clothing. We were missing both pairs of fireproof gloves, last seen in The Isle of Man in 2019. We also needed a crash helmet for the fuel guy, (oh!!! that's me!) for fire protection, to put the fuel in. Lance came to the rescue and lent me gloves and helmet, thanks Lance! ☺️ We ran through the stop a few times, testing what could go wrong. Sarah was on petrol cap removal/replacement and drinks. She was also under strict instructions not to drop the cap into the fairing, just to put some pressure on! ???? Matt was fire safety officer, resembling Kevin the Minion, in all his gear, which tickled Sarah just a little. Nobody dared laugh at me as it's my birthday. All this clobber could be put on in the pits just before the stop, handy, as we'd have overheated otherwise. It had turned out hot.
We got the call, and with trolley loaded, had the long walk to the collecting area. The bikes are put on the stands, with tyre warmers on and stay there for 20 minutes. Every club has this routine, it makes sense as avoids a last-minute rush and gives the organisers the chance to bring the schedule forward if they need to. And they did. We were there no more than 5 minutes before being called to the formation lap. All quite excited at the prospect of an hour's race with a pit stop, to spice it up a little. ☺️
All the riders took up their grid positions and were waved off for the warm-up before the start, proper. Rik launched as best he could and got to the first corner well in touch and took a place on the exit. Good Lad ☺️! After five minutes he was up to 11th, in a group fighting for 8th and riding super smooth, it was like watching liquid silk. Places were changing constantly and after 30 minutes Rik had squeezed into 8th. We'd arranged to bring him in on 30 minutes so I did. Moments after he entered Pit Lane the red flags went out and the Safety Car deployed. There was a moment's confusion as to what to do, but we quickly realised, just crack on, so we did. Rik pulled up and the sequence of events are as follows: Matt has to deploy the rear stand, which he had trouble doing because his goggles steamed, depriving him of sight, it seemed to take ages before he managed it. I was mentally screaming at him but stayed calm. Sarah had removed the fuel cap and once the bike was on the stand Rik got off for a drink whilst I plunged down the petrol quick filler, which is poorly named. We need to do something about that and we have a plan. Rik took on some water supplied by Sarah. The fuel seemed to take forever putting in just four litres and I got frustrated, lifting the filler slightly early and spilling some petrol over the tank before the nozzle shut off. This has now eaten into the paint and the tank now resembles 'The Phantom of the Opera,' oh well!! Sarah replaced the cap. Rider and bike replenished, Rik jumped aboard, fired her up and was off, only to be held at the end of pit lane to wait for the Safety Car.
I'm under the impression he should have been let straight out as he was already in pit lane, however, the organisers didn't and it cost us dear. Rik dropped back to 13th behind the course car which seemed ok as the riders in front hadn't as yet pitted. When the race resumed properly, with 15 minutes remaining all of a sudden the whole field had pitted leaving us still in 13th. We were confused wondering how that worked then. We still don't know.
Just a quick report on Lance, as he's a mate ☺️, he was riding really well and fighting for 3rd which he didn't quite make and finished 4th. Our boy on the other hand was having a great dice for 9th and was up to 10th with 7 minutes remaining when he outbroke himself and took to the slip road on 'that' corner, costing 11 seconds and, dropping him back. After a valiant last few laps, Rik finished 11th. He rode so much better than that, but "That's Racing" and why we all love it. You have to take the lows to appreciate the highs. ☺️
That was that then. Not brilliant results but we're gelling as a team and progressing nicely with every meeting toward our collective goal of The TT22 next year. The big security guard waved us a fond 'au revoir'. The dog barked. ☺️ The tuned motor is now back in and staying in.