Saturday 12th June, our first race day! I'd have loved to have started this with; "The day dawned with heavy skies and the threat of rain," but that would've been a lie. Another glorious day in Spain, perfect if you're on holiday lounging betwixt bar and pool but not when you're racing bikes. Still, it's race day and we're as excited as a kid on Christmas morning.
Fortunately our first qualifying session was early at 8.20, to be exact, with the temperature still just about manageable for us Brits. We had 3 qualifying sessions in the morning, followed by a couple of 25 minute races in the blazing afternoon heat. Poor Rik and Lance. Needless to say their fluid intake was high. During the three sessions The Triumph persisted with the misfire on the second lap then cleared every time. I made a note to check over the fuel pump after the days' activities.
For the WERC 600 Championship, Rik managed 13th on the grid, not bad. And for the CLNA Championship a slight improvement to 12th. Lance came in a few places ahead with 7th, so now he would be Rik's main target, lol! The WERC race would be at 15.15, for which Rik had a new front tyre, not the compound I'd like but that was all Dunlop, (who support the championship), would supply. I was a little disappointed with this situation as I expected to be able to pick and choose. Very fussy when it comes to tyres! At the time I thought, "well it's the same for everyone!" …more to follow on that.
So here we are, after 9 months of prep, the first race, hopefully, of many more this season. Now, the routine in France for all races, is to be in the collecting area 20 mins before kick off, with the bike on stands, tyre warmers plugged in, the riders wearing sunglasses and being kept cool by the shade of a brollie delicately held by a voluptuous beauty. I'll say no more about it and leave you with that image. Ooh!! How un-woke of me
We get the go ahead to do the formation lap round to the grid. I'm feeling, stressed, anxious, sick, excited and relieved all at once. We're racing! My heart is already racing. I'm now getting to the age where I'm running out of heartbeats, as I firmly believe we only have so many to play with, and I was using up a days worth in five minutes. Once Rik was out on track I managed to calm down somewhat and breathe. He lined up 13th on the grid and they all get waved off for the warm up lap. Which is also the opportunity for a bit of a practice start. I didn't actually see this but was eagerly awaiting to see how Rik looked on the warm up lap. All the others came down the hill at the far and of the circuit with one exception. Yep, you guessed it, he wasn't where he should've been and in fact wasn't with them. Then after what seemed like years he appeared being followed by the course car, travelling very slowly indeed. "Oh shit!!!!" thought I. Actually my thoughts were a little more profane. I couldn't quite believe the sight before me. This is so very typical of racing, always expect the unexpected and deal with it. Watching impatiently in the vain hope that Rik could somehow think of something to coax Trudie back into full life, but no, he pulled into pitlane,(ooh!! it's one word) and went straight to the Truck.
Lance ran on to meet him and get the bike on the stands. I don't do running anymore. By the time I pitched up, Lance was helping Rik unstick himself from his leathers. "What's up?" Rik explained thus: "I had it in first, revving it high and just as I was about to dump the clutch, all the electrics went out and it wouldn't rev above 8000rpm." I won't write what else he said and again, leave that to your imagination. "Ok," I responded, "let's fire her up and see what we're dealing with." She fired up a treat, revved freely with absolutely no sign of any problem. Here, Rik did become a little paranoid, exclaiming "She's making me out to be a * liar." The emotion of the moment, but I knew better as we'd had a similar problem with the Twin at the TT in 2018.
What we did, and please don't try this at home folks, was to run her up through a few gears whilst still on the rear stand. Quite dangerous but on occasion such things are necessary. All was good and the three of us, bemused, scratched our gnat bites, (not a euphemism), to think of a solution. Time for a proper think, aided and abetted by some tea. After going through the sequence of events again and now on my second cuppa, I deduced that for some inexplicable reason Trudie went into limp mode, which is short for the engine management system falling into protective mode so no damage can be done. We couldn't be sure, and as it was a couple of hours before the next race, we had time enough for a quick investigation. So off came fairing, seat, tank which was drained first, the battery cover giving access to that, and the airbox so we can check the spark plugs. All the electrics, to the best of our knowledge checked out all good and dandy, so I proceeded to remove the fuel pump and take that apart for a clean and check over. We found that the filter had been doing its job rather well and was laden with flotsam and jetsam, amazing how much rubbish collects in there, no sign of a shopping trolley though.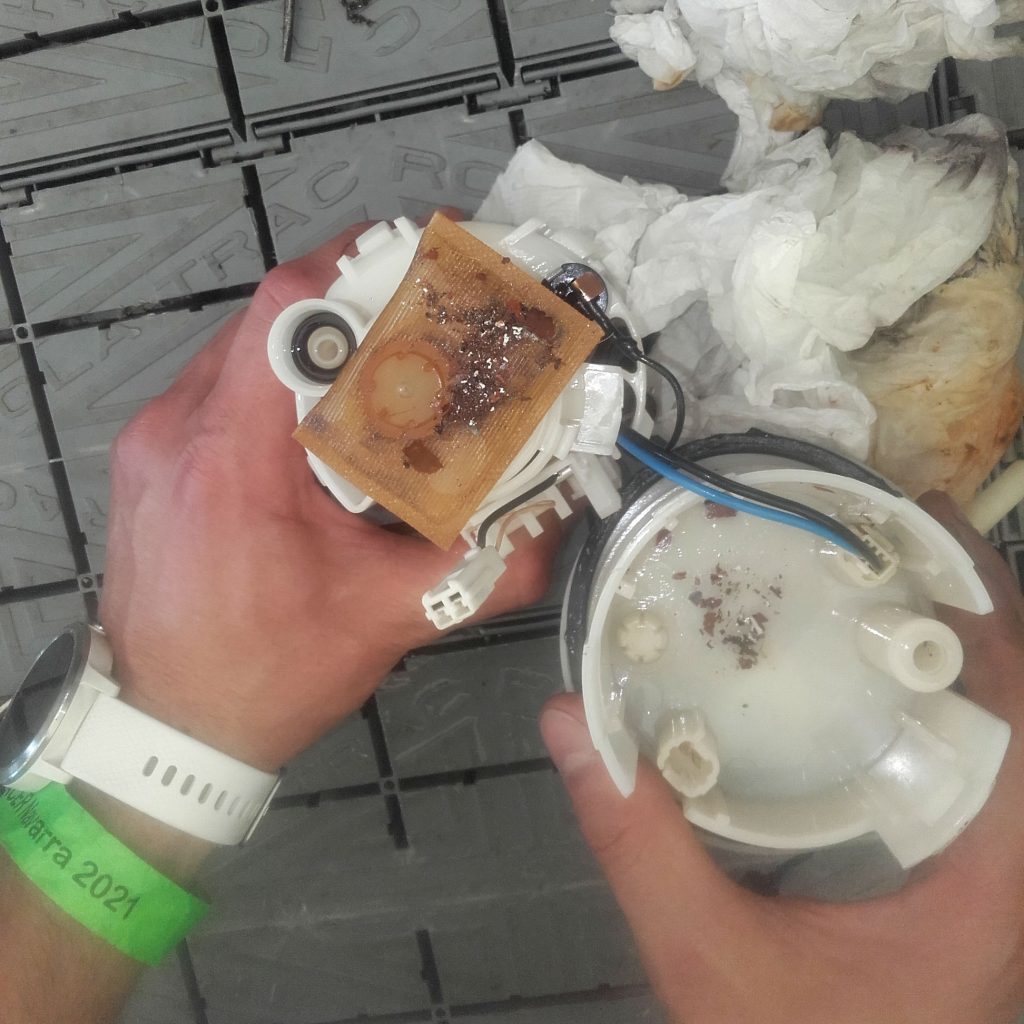 After a thorough clean and examination the fuel pump was popped back into the tank and Trudie was rebuilt. Just as I was putting in some fuel, Lance heard the announcement that they're running 30 minutes early and we had 20 minutes before our presence was required in the collecting area for the next race. "Phew that was lucky" I said closely followed by "I'll fire her up then and you two get your leathers on." I hit the switch and she turned over, which is a good sign but didn't fire up, which is definitely not a good sign. We deduced it was because the fuel pump would be empty, in hope more than anything, so I kept at it and still nothing. "It must be the pump, we've done something wrong" together with a few expletives. Let's see if it's pumping, I held the tank up and Rik removed the petrol pipe only to find that there was a constant trickle, that's not right. Ok, drain the tank again of the nine litres and whip the pump out. This process seemed to be taking way too long so after draining only 4 litres I turned the tank over on the floor to gain access to the fuel pump. What leaked out would have to leak out. As it happened the cap held tight and we only lost a dribble. Sure enough a little rubber 'o' ring had slipped, unnoticed, out of its seat. It was quickly re-seated, pump put back together and returned to the tank. Back in place I fuelled up, for a third time, switched on and she fired into life.
By this time Lance had gone to the collecting area to wait for the race. Apparently if you're not on time they can get a little disgruntled, so he informed the gatekeeper that we'd be along shortly. About 5 minutes later Rik joined him. I collapsed into the chair, craving for a ciggy, thinking "jeeze, that was close." About 4 minutes to spare. Another priceless racing memory to add to my collection. And, I still had time to make a cup of tea. Happy days.
Perfect timing, because I just caught the start and saw Rik crawl away in last position. Two corners later he'd overtaken a couple and was lining up a third victim. By the end of the second lap, it became clear to me that 15th would be the worst result. As it turned out, Rik fought hard, didn't back off and came home a creditable 12th. A very good race it was. Lance was pushing for a top six at mid point, but slowly got dropped and finished a solid 7th. Think we'll take that, under the circumstances. As an added little bonus, Rik was 3rd in The Dunlop Cup, a little championship within the main Championship for all riders using Dunlop Tyres. Rik was invited to the last podium step, which was good to see and surprisingly encouraging. Another bonus was that the slight misfire had disappeared, so we've put that down to the petrol pump. The races on Sunday were scheduled for late in the afternoon, leaving plenty of time to prep Trudie, so we had some well earned dinner and went partying.
The organising club put on a bit of a bash, which included at least 50 litres of punch and a tombola. We rocked up a little late but we were made instantly welcome and it was great to meet a few of the other racers and teams, we really felt accepted. I had a feeling Rik would win something, just because he's quite shy at these kind of do's. Within 10 minutes we heard his name called out, haha!! Reluctantly he made his way forward and was awarded a voucher for a new Dunlop Tyre at Carole, the next meeting. More Happy Days! It put us in mind of a raffle we went to in The Isle of Man back in 2014. Our little group bought about 40 quids worth of tickets and, no lie, won 7 prizes on the trot, it did get a little embarrassing, haha!! We were having a chat and a laugh with anyone who can speak a bit of Franglais, enjoying the warm evening breeze and convivial atmosphere when I spotted the Dunlop Guy. Ermmm. I meandered over and started chatting, best I could, about the unavailability of certain compounds of Dunlop Tyres, to start with. Then we got on to his racing days and how he loved racing at Chimay, a road circuit in Belgium, which inevitably led to The TT. Always good to drop that in now again in the right company as you immediately attain god-like status and doors, otherwise closed, open up rather quickly.
After a few more looseners The Dunlop Guy ushered me over to the back of his van. No! No! Wait… Where he unlocked it, slid open the side door to reveal a brand new 190 medium compound rear tyre, the only one on the circuit and exactly what I would like for the Sunday's racing. I said I'd have it and be up in the morning for them to fit. Nice when it starts to come together. As it turned out, I couldn't sleep so worked on Trudie till the early hours. Rik had an early night and was in bed by 11. Good Lad.