Manx GP – 29 August – Race Day
After a day off, relaxing, nursing a sore head and leaving Rik to do the race preparation, which is part of the bonding process between bike and rider, race day dawned with heavy skies. Reports were also coming in of very damp roads all around the course and we knew there would be a delay. It turned out to be only two hours. This wasn't so bad and gave us some time to properly wake up.
The agenda for the day then, was a warm-up lap at 12.10 shortly followed by our race at 13.30, by which time the sun had promised to grace us with its presence. The mood in the camp can best be described as 'a bit nervous' with Rik getting into race mode and quite quiet.
We left him alone and I went through the race day routine with Sarah and Matt, sorting out the tools and obligatory clothing needed for the fuel stop. Matt then organised the fuel. We were set and it was just a matter of waiting for the call for technical inspection. Nothing more we could do, it was now all in Rik's capable hands to do his thing and bring them both home.
The call came up for scrutineering, so Rik and Sarah pushed Trudie up, while Matt and I prepared our place in Parc Fermé where she was made ready for the warm-up lap. This again was untimed, which is a double edge sword really. It stops the rider from pushing on but we have absolutely no feedback on how fast the bike is through the speed trap at Sulby. We'd changed the gearing slightly from Saturday's warm-up at Rik's request and there was no way of finding out if it would work, save Rik's opinion. Fingers crossed then!
We saw him off and settled in for the 21-minute wait for his return. Due to our anxiety and nerves, it could be a rather long 21 minutes and, in what turned out to be a distraction, we debated whether there was enough time for a cuppa. Matt thought no, as it would be too hot to drink by the time we'd bought it, Sarah and I thought the opposite. By the time a decision had been made, the first riders had started coming in. Matt was right.
Rik came back and we parked Trudie on stands to give her a check over and popped the tyre warmers on. Rik and Sarah went back to camp for his final race prep. We refuelled Trudie and then were invited to fill up the fuel hoppers and sort out our allocated pit, number 36 to be exact, just over halfway down pit lane. It was now 13.00 hrs, 30 minutes to go. Eeeek!!!!!
Matt and I returned to Parc Fermé and Trudie to wait for Rik and Sarah, who joined us shortly after. The pre-race nerves intensified when we were called up onto Glencrutchery Road for the start of the race. The moment of truth, as it were, to see if all our hard work will pay off.
For those who don't know, the riders are sent off one at a time at 10-second intervals and with our number Rik would be about 7 minutes behind the first rider away. We joined the queue proper, which was diminishing at 10-second intervals, slowly moving Rik forward. Rik was focused, so Matt and I then left Sarah to walk with Rik for a bit of husband and wife time. Awwwww!!!
We went further forward to watch the launch towards the top of Bray Hill. It was a clean getaway. Time now to settle into our pit and watch the race unfold.
Due to strict regulations, we are prohibited from taking mobile phones into a 'live pitlane,' meaning we cannot follow the live timing. There is however a massive TV screen indicating which sector any rider is in, so we weren't totally blind. We spent that lap willing each of Rik's sectors to light up.
Personally, I wasn't that aware of the first riders coming through completing their first lap, as I was so focused on where we were. Sarah couldn't look but Matt said, "God they're ******* fast". Then the light came on at Cronk ny Mona, indicating Rik was a mile away. Relief all round.
He came through flat on the tank and flat out, recording a first lap average speed of 109.3mph, with Trudie sounding a tad flat compared to the other bikes. It was then that Matt and I knew that we hadn't solved our issues, but maybe Rik could squeeze a lap of 111mph out of Trudie. Sarah didn't care, just satisfied that 'her man' was still going, and safe.
Rik was in a race for 33rd position with a few riders at various points around the course, it's difficult to follow accurately from the pits but 'our boy' was hanging in there.
A quick pit stop will be vital at the end of that lap. His light popped on at The Cronk and we made ready awaiting his arrival. Nowadays, we have to wear all the appropriate PPE, including gloves and a balaclava, which does inflict some hindrance during the stop. Sarah was on cleaning the screen and visor together with giving Rik a drink. Matt was on extinguisher duty, while I was fuel man and Rik wanted to remove the petrol cap.
He came into pit lane, Sarah stood out to direct him in to stop in the right position, so I could fill the tank once Rik had taken the cap off, which he did. I was in there with the pump fully open but couldn't see into the tank and definitely couldn't feel any fuel coming out, due to wearing those bloody gloves. I started to panic.
My first instinct was that I'd forgotten to open the stop valve. I let off the trigger to turn around and check, it was on so I pulled the trigger once more and peeked into the petrol tank. This time I could see the fuel filling up.
This is where it gets tricky, as you really do not want to overfill, resulting in petrol going everywhere. Conversely putting in less will result in your rider running out of fuel. I lifted the nozzle slightly to see the level, misjudged it squirting some fuel over the tank and into Rik's crutch, he said, "get it in the tank please dad!"
"Sorry son, I can't bloody see!"
Slowly I topped her up and was done. Rik replaced the cap, fired her up and was gone.
"Sorry guys, I fluffed it."
That second lap marginally improved at 109.6 with Rik in 35th position. He left the pits after a 1.04-minute stop in 37th, I'd lost him about 10 valuable seconds. Bugger.
In the remaining two laps Rik's pace stayed consistent, while the others all had faster final laps. As hard as he was trying, he could not squeeze any more speed out of Trudie. I can't remember much of that third lap but again we waved him through on the start of his final tour, with a 3rd lap of 104.3 mph. If you add the ten seconds on, it would've been 105 exactly.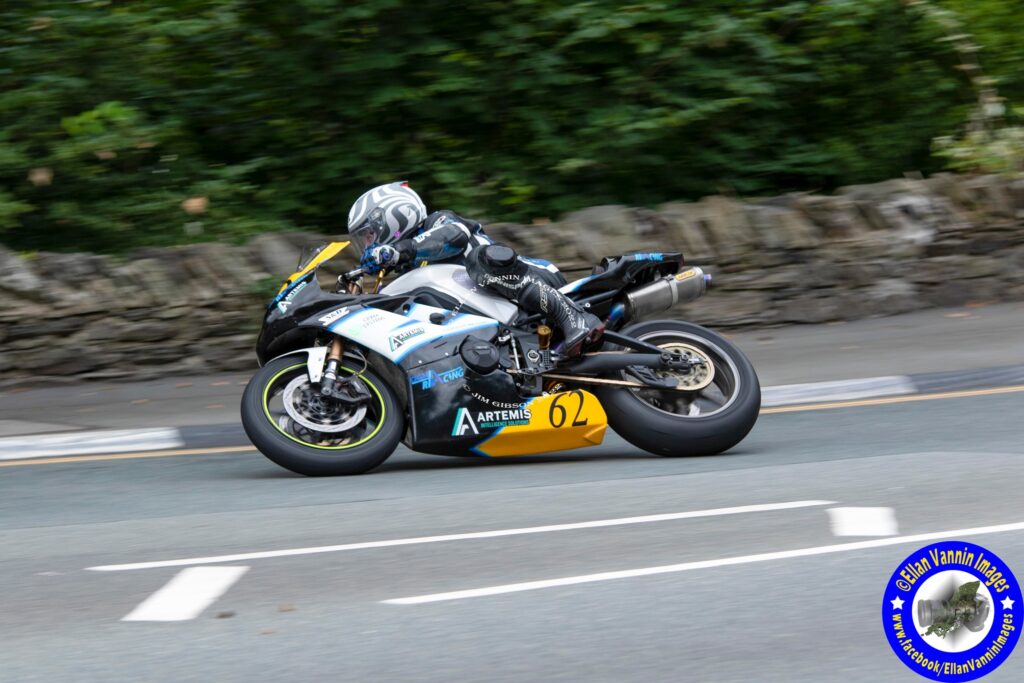 We then had to empty the fuel from the hopper and clear the pit in readiness for the next race which took most of the lap. We just about made it back onto the pit wall to cheer our boy home.
What joy to see him complete another race over here. Sarah especially was much relieved. That final lap was 109.7mph. He might just win a bronze replica, it'll be very close.
Trudie was parked up in Parc Fermé and we headed to the beer tent with Claire and Phil who'd come to support us, which was nice.
Rik missed a replica by approximately 15 seconds over his race time. I've been forgiven.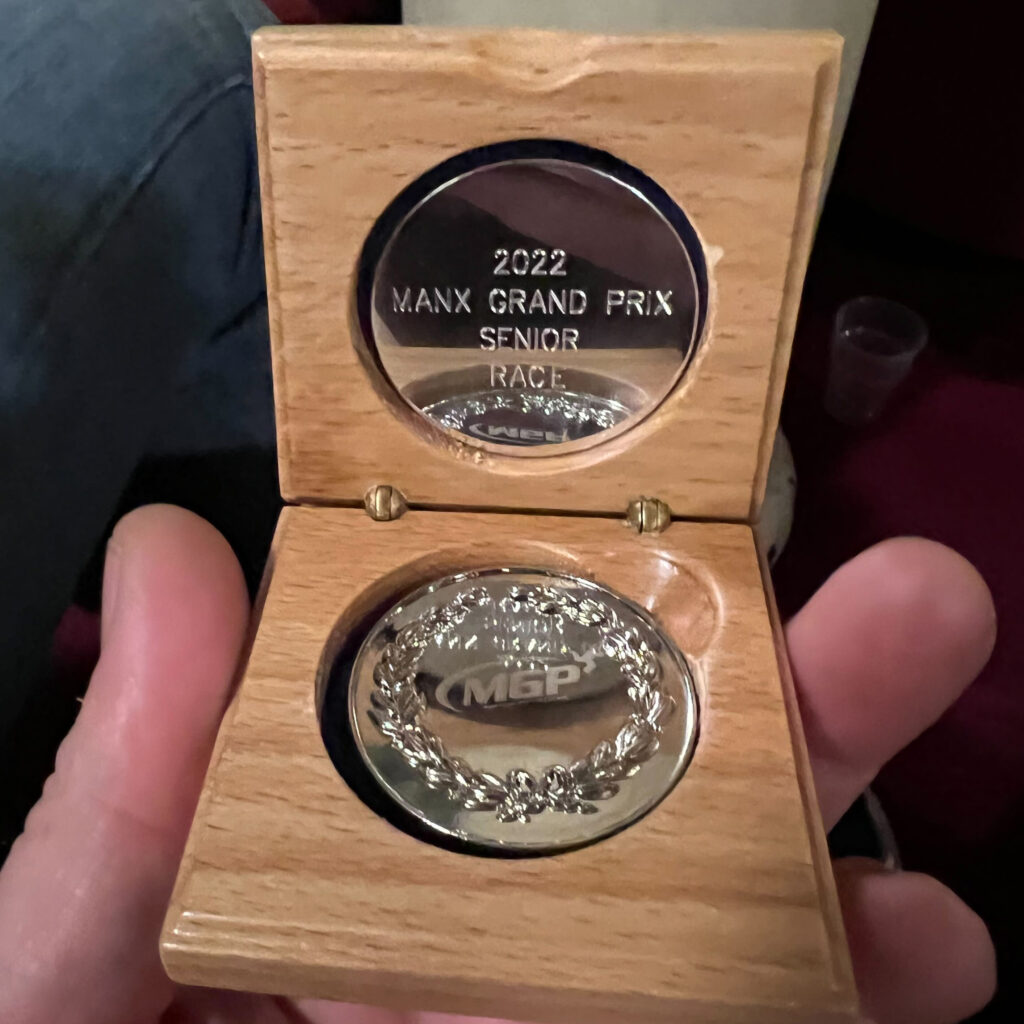 So that's it. Our 2022 Manx Grand Prix is over. We've had a fantastic time, met some amazing people and have some wonderful new memories.
I will conclude by saying that on reviewing Rik's times, there were only tenths of seconds between each and every sector. Which proves that he was trying so hard and got every ounce of speed that Trudie was willing to give. The top speed of 139mph was used to its maximum, for sure!
The problems we've had were totally unexpected, as the last time this engine was used in July 2021 at Carole, Trudie ran a treat. Always expect the unexpected.
I hope that you've enjoyed reading about our adventures and please keep popping onto the website for future updates.
The Manx Grand Prix concludes our racing for this year. 😄
Race Results
| LAP | SPEED | DISTANCE | TIME |
| --- | --- | --- | --- |
| 4 | 109.85 mph | 37.73 miles | 20:36.512 |
| L1 | 109.20 mph | 20:43.864 |
| --- | --- | --- |
| | Sector 1 | 05:15.102 |
| | Sector 2 | 03:46.515 |
| | Sector 3 | 03:57.296 |
| | Sector 4 | 03:51.201 |
| | Sector 5 | 02:43.280 |
| | Sector 6 | 01:10.467 |
| L2 | 109.23 mph | 20:43.486 |
| --- | --- | --- |
| | Sector 1 | 05:07.688 |
| | Sector 2 | 03:46.720 |
| | Sector 3 | 03:58.132 |
| | Sector 4 | 03:52.789 |
| | Sector 5 | 02:42.044 |
| | Sector 6 | 01:16.111 |
| L3 | 104.32 mph | 21:42.047 |
| --- | --- | --- |
| | Sector 1 | 06:15.361 |
| | Sector 2 | 03:45.712 |
| | Sector 3 | 03:57.281 |
| | Sector 4 | 03:52.080 |
| | Sector 5 | 02:41.991 |
| | Sector 6 | 01:09.620 |
| L4 | 109.85 mph | 20:36.512 |
| --- | --- | --- |
| | Sector 1 | 05:07.697 |
| | Sector 2 | 03:46.446 |
| | Sector 3 | 03:58.083 |
| | Sector 4 | 03:52.081 |
| | Sector 5 | 02:43.047 |
| | Sector 6 | 01:09.155 |