Navarra, Spain – 17/18/19 June 2022 – Part 2
I forgot to mention in the last update, that towards the end of the second test session Rik had a misfire. When Matt checked the battery it was down on voltage and we deduced it wasn't being charged sufficiently. So we swapped the race ignition for the standard ignition system which is tried, trusted and reliable.
We were up early on the Saturday, well Matt and I were, again enjoying the morning freshness and making the most of it. The others were up an hour later and the mood in camp was very relaxed. A little too relaxed, as we were late for the first qualifying session.
Rik got out half a lap behind everybody else and his 15 minutes on track proved fairly lonely for him, as he circulated just about the same pace as his competitors. He finished the session in 13th but only a second and a half off of 7th, so in touch. Back at camp Rik reported everything was good and he felt confident.
As qualifying 2 was three and a half hours away, I fired up the griddle, made breakfast, and we had some rest and recreation. Time for qualifying 2 soon arrived and as Rik was squeezing into his leathers I turned Trudie on and hit the starter. She turned over but didn't fire up. Strange?!
I tried again. Nothing. After two more attempts, it was clear we had a big issue and weren't going anywhere. Rik removed his leathers and cooled off in the paddling pool while Matt and I started the process of finding the problem. Eventually, we traced the fault to the crank position sensor, which tells the spark plugs when to spark.
Without getting overly technical, the other crank position sensor we have is in the race ignition, which we'd changed as we were not confident it was charging. To remove the sensor and fit it to the standard ignition involves cutting wires and re-soldering them. Not ideal and always a bit sketchy unless there's no choice, of course.
We decided to, once again, swap the whole system for the race ignition and see what happens. That's what we did and all was done half an hour before the race, firing up first time and revving cleanly. A relief, I can say! Just enough time for a cuppa before setting off to the collecting area.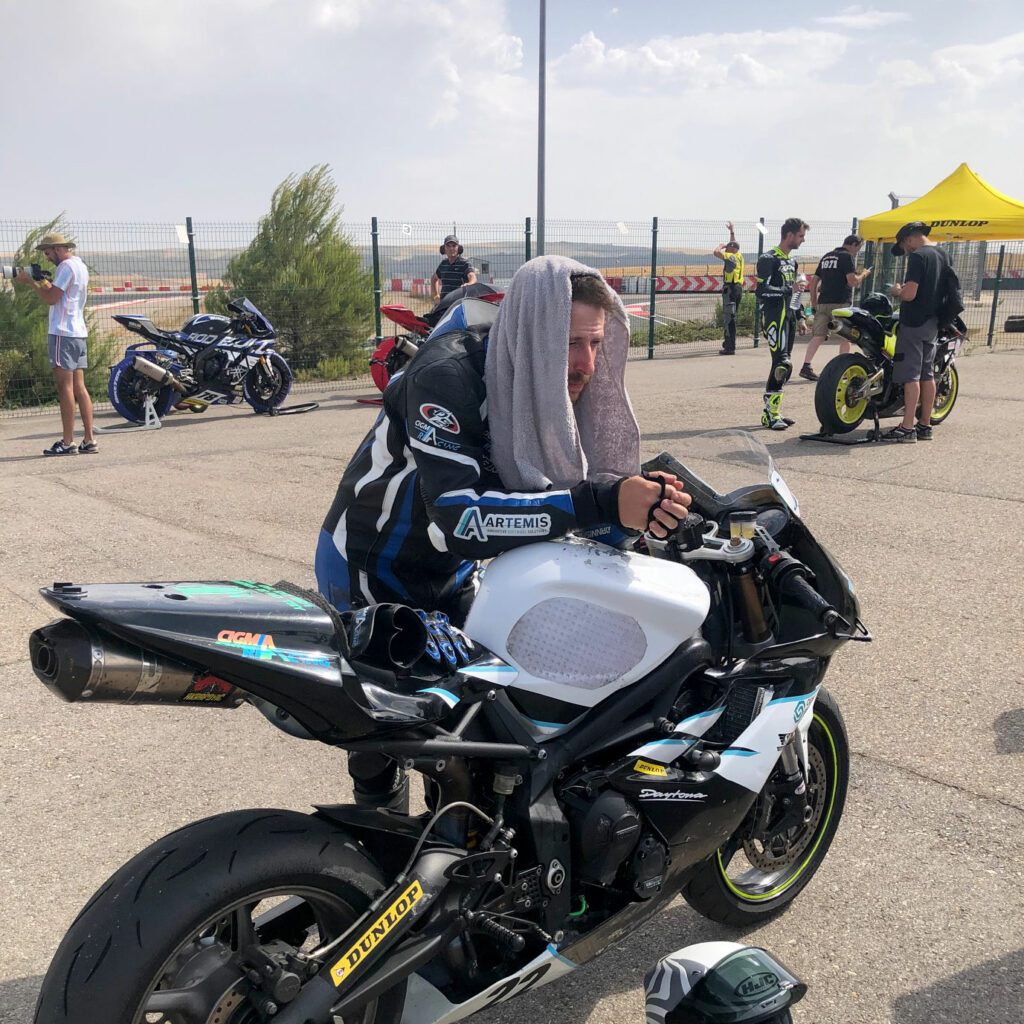 Matt Sarah and Amelia all went up into the stands to watch while I went with Rik, carrying a wet towel to keep him cool, and the rear stand. No need for tyre warmers today with the air temperature being an oppressive 40 degrees. Because of that, the wait in the collecting area was shortened to only 10 minutes, with Rik soon on his way to the grid, in 14th position.
He did his sighting and warm-up laps just as I'd found the others, enabling me to see the start which was another good one. By the end of that first lap, Rik was up to 10th and just knicked 9th on the entry to the fast right-hander at the end of the start-finish straight. Good boy! His race face was well and truly fixed and he'd gained 7th by the end of lap 2.
We were all rather pleased with this when I noticed, less than halfway around that lap, Rik had lost a place, then another and was visibly slowing.
"He's got a problem!" I exclaimed. Very soon it was painfully obvious that Rik would be pulling in, so I went as fast as I could to meet him at the end of pit lane.
We got there at the same time, just as Trudie stopped…