Test day – Le Vigeant 11 April 2022
Apart from the routine preparations, all we had to do on Trudy was the fork oil seals, which were easier to replace than expected. We did experience a little difficulty compressing the springs sufficiently to gain access to the dismantling nuts, but Rik quickly worked something out. He fabricated an extremely makeshift tool utilising two long bolts and a stainless steel grid from the kitchen which worked fine. After that, it was plain sailing and the forks also benefitted from a good internal clean and fresh oil. They felt completely different causing me a little concern, but we'd find out soon enough.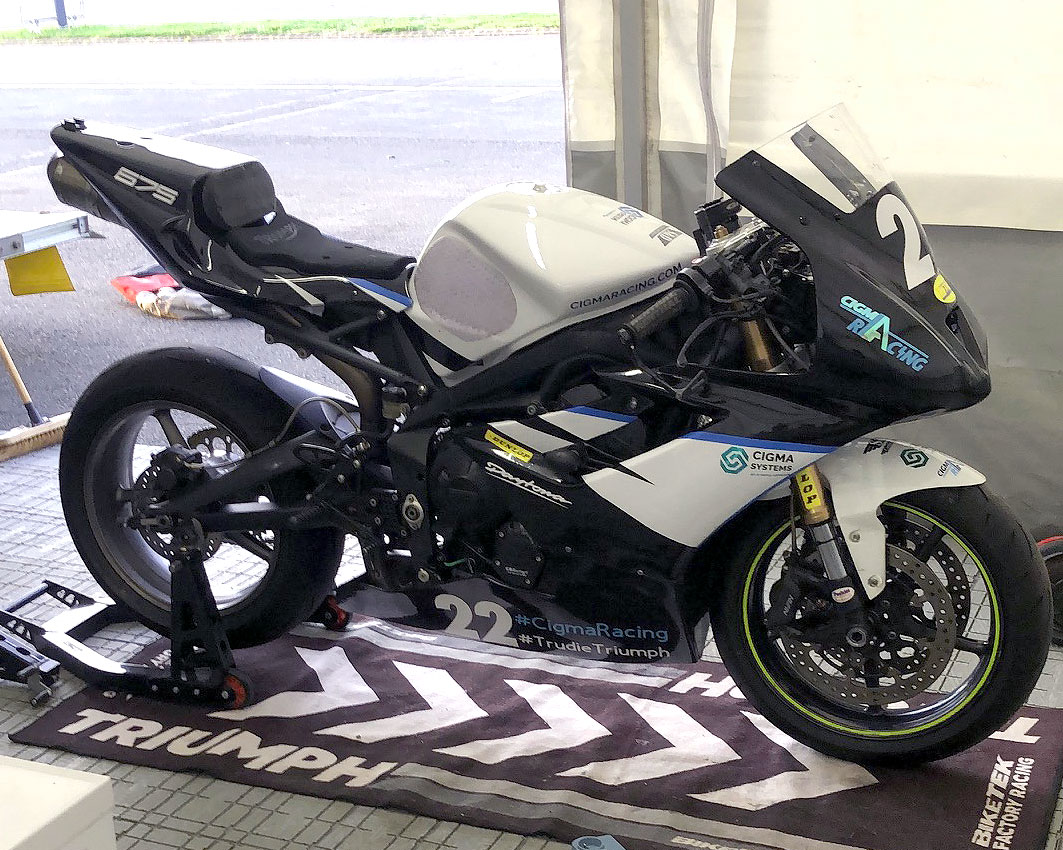 Sunday afternoon we loaded up the truck and headed off to the circuit, 25kms up the road. I don't usually bother with the truck for one day on track, but we needed to clean the awning and flooring.
All the wet weather of the previous 2 weeks had given way to a few days of summer so once again we were blessed with easy conditions setting up camp and were done by 8.30 pm. After a rather average takeaway pizza, Sarah and Rik left for a decent night's sleep leaving me with my domestic duties and the hard bunk bed in the truck. I was a little preoccupied with one thing and another and had disturbed sleep but the morning dawned bright and sunny. Although it was pretty damn chilly, requiring two jumpers for the first hour.
Rik and Matt turned up at about 7.30 and after signing on and the briefing Rik was on track at 9 for the first of 6 sessions. We watched from pit lane and tooled up just in case Rik came straight back in with a minor problem. Obviously, everything was working well as he completed the 20-minute session with no issues except for a slight adjustment on the handlebars. I also made a few changes to the front suspension then Trudy was fuelled up and put on tyre warmers ready for the next session.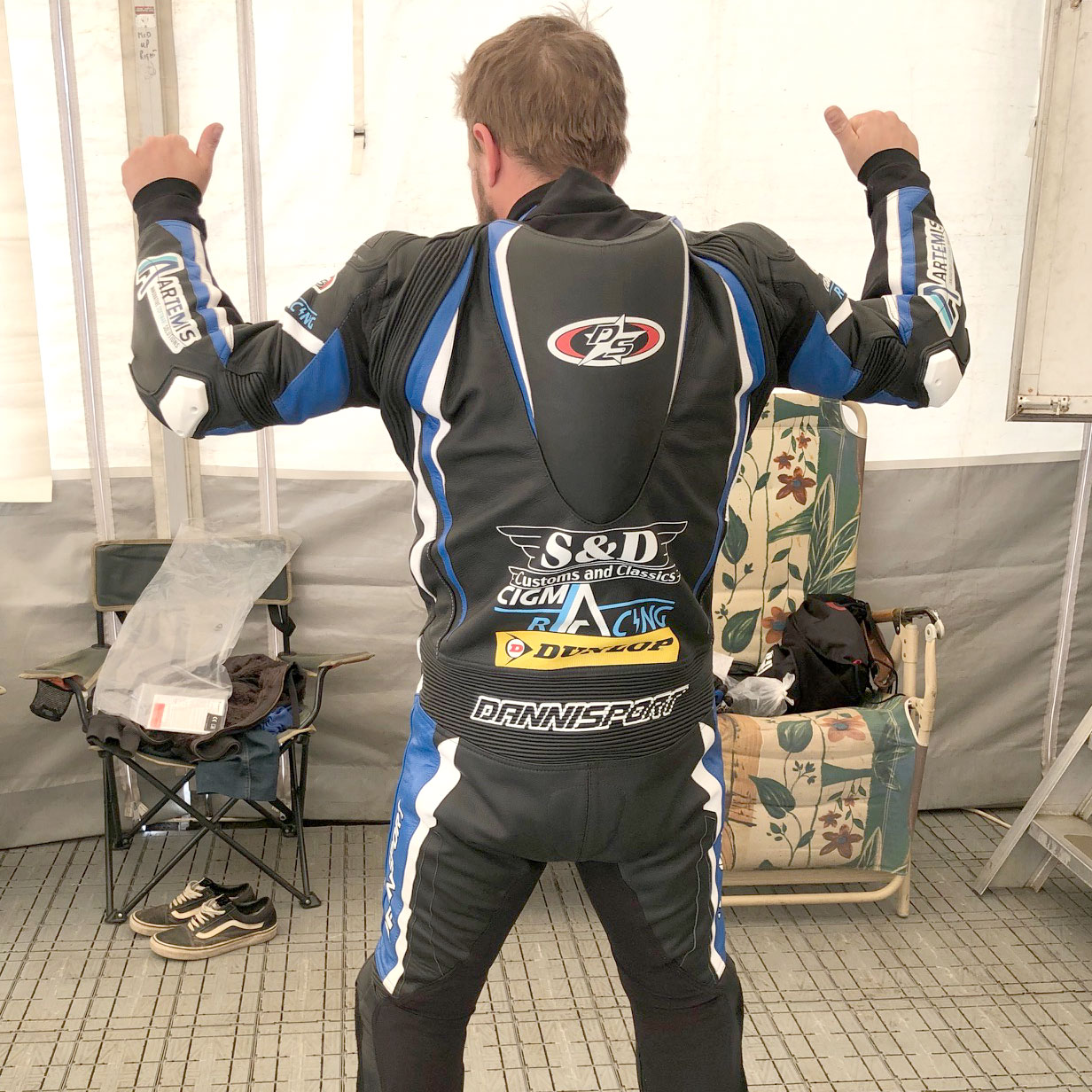 In the meantime, Sarah had turned up with the new team leathers and gloves. Rik was straight into them and they fitted perfectly, just like the proverbial… I will happily take full credit for that as I did the measurements. It would've been rude not to use them immediately so they stayed on. Rik did report that they were snug around his thighs and biceps but we've been reliably informed, by the manufacturer, that they will "give a little with wear, Sir".
That second stint was very promising as the bike and rider were steady, smooth and circulating not far off race pace, looking extremely comfortable. Back at camp, Rik confirmed this stating "the bike has never been so good, I'll push a little harder next time". Happy days. Short-lived.
On the third lap of the next session, Rik and Trudy were the innocent victims of a Kamikaze manoeuvre performed by some numpty on a 1000cc Yamaha. He seemed to forget it was a test day and tried to dive underneath our pair on a fast left-hand corner, completely missing his braking point.
Rik's left arm took the full force of the collision, knocking him over the top, high side, and Trudy into a sideways cartwheel with a bounce flat on the tank thrown in for good measure.
It was a big off, witnessed by all of us. I was fuming as it was so unnecessary and we couldn't even say "well that's racing," because it wasn't racing, it was testing. I let my displeasure be known quite strongly to the organisers and latterly, the numpty himself. Rikki's sentiments mirrored my own, especially as he always considers the slower riders and shows them great respect.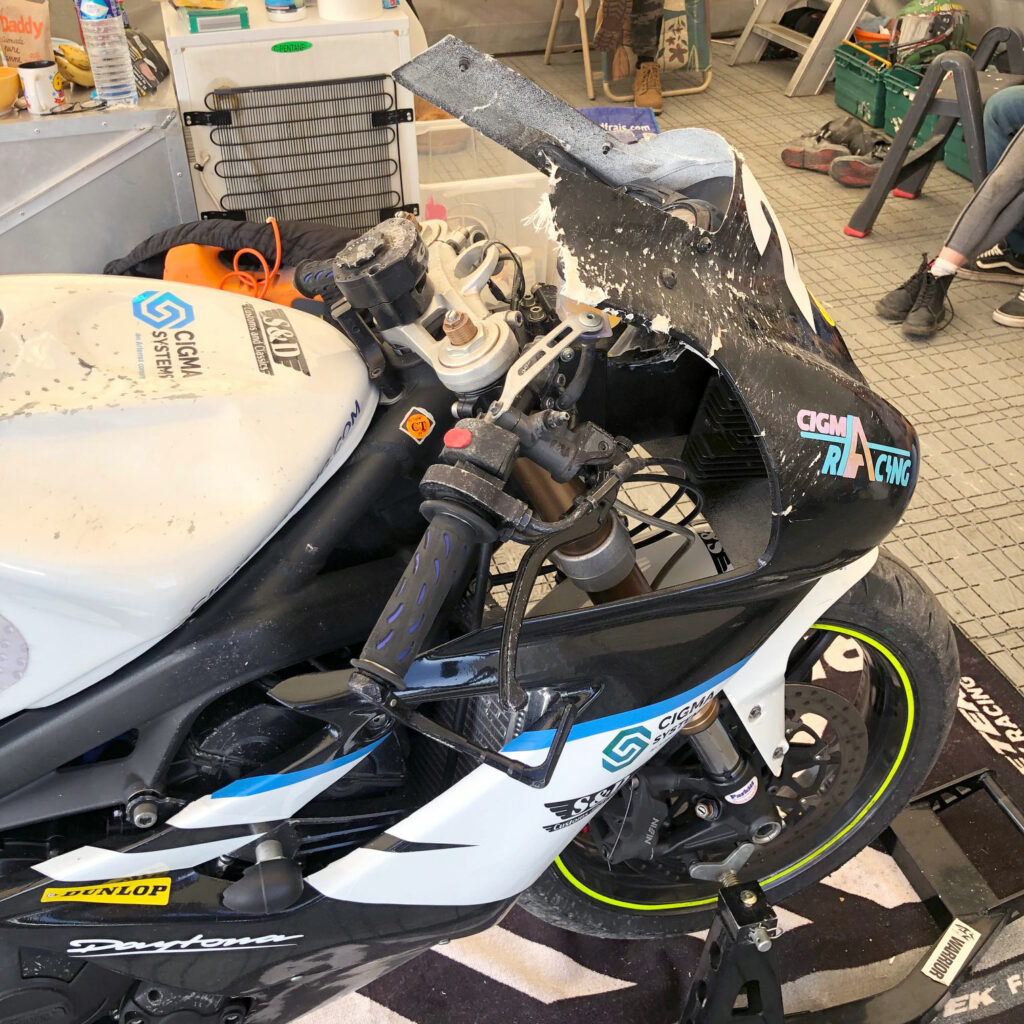 Thirty minutes later, bike and rider had been delivered to the truck with the pair looking decidedly secondhand. We were all shell shocked at how quickly things change in life. Once we'd calmed down somewhat, Matt and Rik surveyed the damage while I fired up the bbq and cooked a fry up. Always good for lifting the spirits.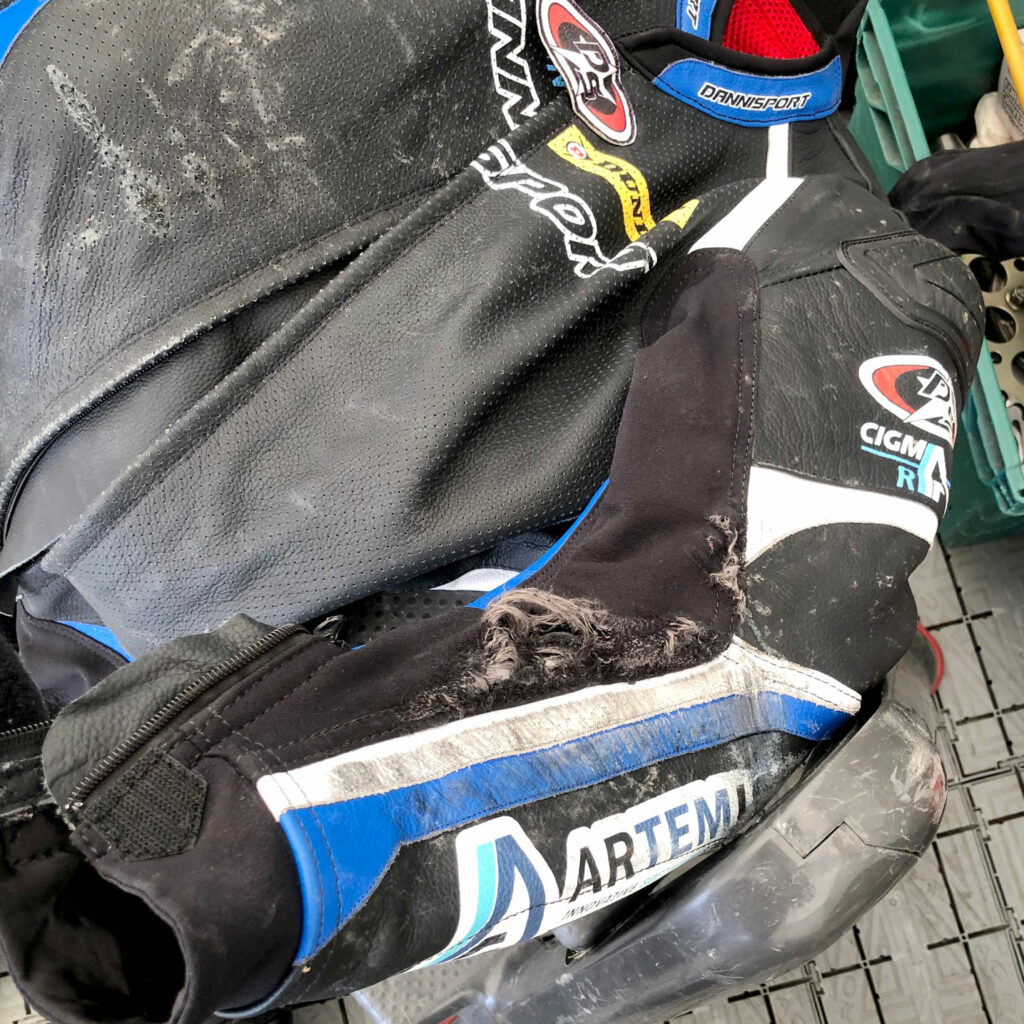 Considering the impact, we got away reasonably lightly and Rik was lucky to have walked away. Although two days later the bruising on his left arm got infected which was a cause for major concern, requiring an x-ray and antibiotics. He's now just about fully fit and ready for Monday 25th, our next test day.
Trudy will be patched up once more for that day and fully repaired for our first race meeting in the middle of May. Never a dull moment with Team Cigma Racing, it would appear!
At the time of writing, repairs are well underway, and fingers crossed, the new fuel tank arrives in time for that first race.