La Vigeant – 09/10 October – Part 2
The time soon arrived to get up to the collecting area and we were once again blessed with perfect racing conditions. Rik beat us there as he rode Trudie. We were all on foot carrying stands and warmers but by the time we'd caught him up, there was a lot of fuss around him. Curious!
Turned out Rik was not on the start list and after a trip up the control tower to see the Clerk of the Course our situation found some clarity. Now, as he failed to put in a time, didn't do 3 qualifying laps and the race is oversubscribed, they run a consolation race for the poor unfortunates who, for some reason or other, don't qualify and we would be at the back of that grid. Oh well, it is what it is, and back to camp we go for another hour and a half before the consolation race is called.
By that time it was gone six o'clock and the sun was close to being under the yard arm, which could pose a slight problem at the end of the long straight, just like evening practice at The TT.😊
In the Pre-Grille (collecting area) we saw, for the first time, who the opposition would be. A grid of 17 riders evenly mixed between 1000's and 600's. Rik would be sharing the back row with a 1000cc Suzuki. The rider of which came over and said, "Ah!!! You've been punished as well!" We only knew this because Sarah did the translation, I did get some of it though.😊 Sarah looked him up and he's only leading the 1000cc championship, or was, he must be been gutted. Poor chap.
For once Trudie launched and the grid seemed to part like the Red Sea in the run to the first corner where we (the spectators) lose sight of them for half a lap. When they're back into view we saw the 1000cc guy take the lead with 'our boy' in 8th, but we witness him take another 3 places before crossing the line to start the second lap. It was a pleasure to see Rik dive underneath two riders on the final bend of that lap to take 2nd place, but by then the leader had the whole home straight as an advantage.
For a few laps, Rik did try to close up and held the gap just about constant, but he realised there was no point in pushing too hard and risking another off. So he settled into a good fast pace, a couple of seconds off his best, to secure the second podium step.
Rik proudly took his place on the podium and was the recipient of a rather nice engraved glass trophy. A good end to a hard day at the office.😊
Nothing much to do now except, shower, eat, have a few beers and some sleep in readiness for a 9.10 am race start. Almost still the middle of the night.😊 Sunday morning didn't really dawn, as such. It was more like a slow introduction by dimmer switch. The fog was thick, London in the 50's thick. Younger viewers will have to Google that.😊 It was also bloody cold and not surprisingly this situation caused a rather lengthy delay of 2 hours to the day's activities.
Eventually, the sun burnt through and we could remove the jumpers and look forward to some racing. This delay had the consequence of the need to reduce the races by half, down to a 6 lap dash. Not great, but Rik just may be able to hang on to the back of that 1000cc bike and give him a run for his money. It was with excitement at that prospect we got to the Pre- Grille area, only to be told that as Rik was the first 600 in the race yesterday, he'd been promoted to the main race.
This news was greeted with mixed feelings as he'd be at the back of 12 rows, with only 6 laps to make an impact. He's very good, but not exceptional, so it was back to base camp to wait for another hour. What joy, and poor Rik.
Just sometimes it would be nice if the officials, for safety's sake, stopped putting fast riders at the back. Rik's times would've put him on the second row, 11 rows ahead of where he actually started the race. Before long though 'our boy' was back on the grid with the other riders stretched out in front of him. The front row must've seemed like it was in another department.😊
Trudie launched for a second time in a weekend, miraculously, and from our vantage point, high up on the viewing tower, it looked like a great start and it was. Rik came round on that inaugural lap in 21st, this is good we all thought, although the front half of the race had already made a break. He was riding fast but respectful of those around him and again treated us to some great overtaking manoeuvres, finishing that lap in 17th with a little gap to make up on a couple ahead of him.
By the end of the next tour, he was on their rear wheel and made a pass to 16th down the straight. Unfortunately, that rider fought back and slowed Rik slightly and for 2 laps he was caught up in a good little scrap for 15th. By the time Rik had broken clear there was a 4-second gap to close down for 14th, with 1 lap remaining. The pair took the chequered flag, almost as one, but we lost out by the width of a tyre. All very exciting and a great way to finish the season.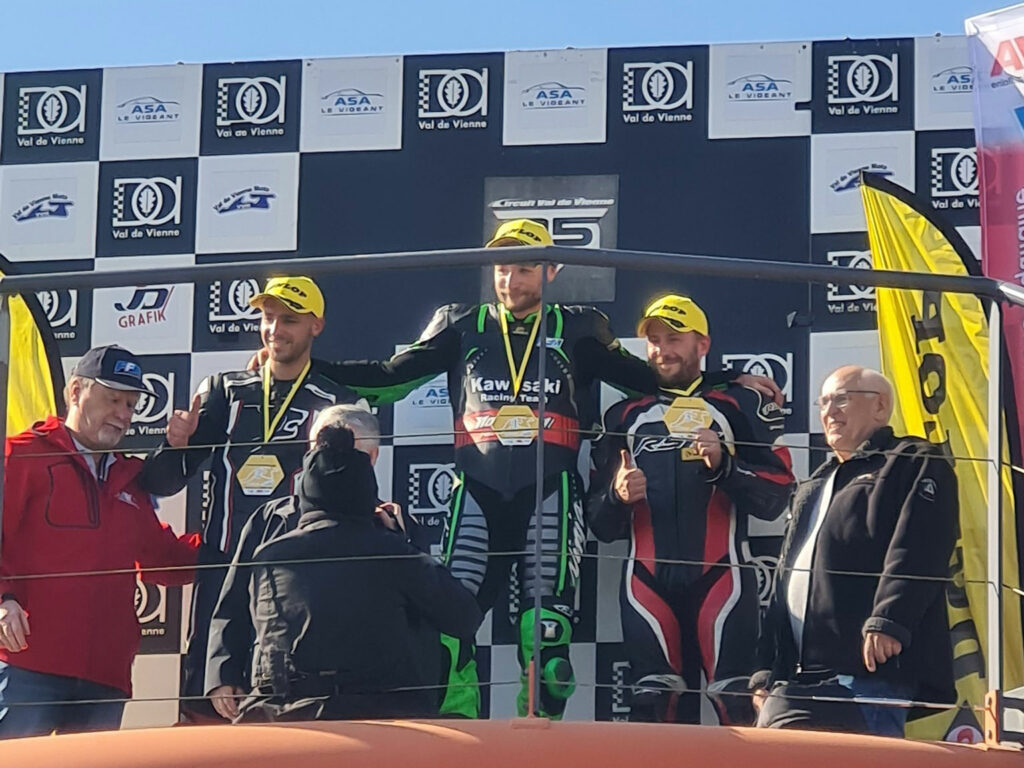 To cap it off Rik was invited back to the podium as 3rd placed finisher on Dunlop tyres and he took the third step clearly enjoying himself. It's pleasing to note that the officials and interviewer noticed how well Rik has ridden all season and with a little more luck would've been at the sharp end in most of our races. That made me smile.😊
A season review will follow shortly.