Haute Saintonge 23/24/25 July – Part 4 – Sunday
Matt and I were up early, for differing reasons. Me because I wanted to get to work on the race prep and Matt because of his tooth which was now so bad his face had swollen quite badly during the night. Cruelly, I did have a chuckle at his expense as he resembled a cute little hamster with a mouthful of nuts. He forgave me after I made him some coffee. Jerome also couldn't sleep and joined us for the early morning beverage.
The radiator cap turned out to be not the only water problem. We had discovered a very slight drop coming from a blanked pipe on the heat exchange unit tucked away behind the exhaust headers, requiring their removal to allow access. Once I'd removed the seat, I tackled the leak while Matt and Jerome played with the electrics. Then we carried on with, fairing, tank, wheels, rad and exhaust. The tiny leak was down to a jubilee clip failure, which was an easy fix.
Jerome, ignoring electric duties, noticed the fan had been touching the rad slightly. After asking permission he set about repositioning that and left Matt to his own devices. By the time I'd refitted the exhaust, Jerome had finished and tested the fan. So I quickly replaced the rad and fan assembly to get out of Matt's way, who'd traced the fault with the diagnostics to the sealed fuse and relay stack by the forks. It was looking promising.
The relays are battered, presumably from an accident with the previous owner, but were still functional. Then, upon opening the fuse box, there was one missing, which was for the fan. Now, I must go to the naughty corner for this one, as I suspected the fan wasn't working in Navarra. I should have investigated but didn't as I got side-tracked with the launch issue and the engine swap before Carole. I suggested we pop in a fuse and see what happens. It'd obviously been taken out at some point for a reason and we needed to find out why now. So it went in and behold, you'll never guess what happened. The diagnostics fired up and for the first time, we could communicate with Trudie.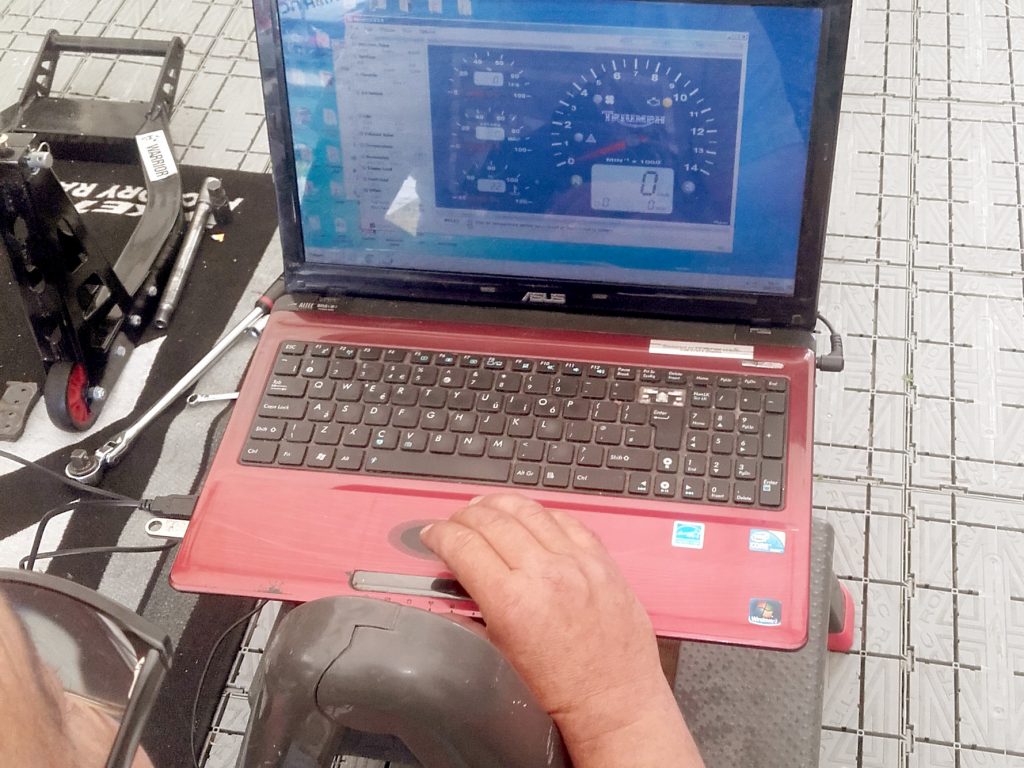 This called for a celebratory cuppa and a cigarette. What joy engulfed the awning at 8 am that morning.
I put the tank back on popped a couple of litres in and fired her up. Matt's little swollen face was a picture of delight as he shouted, "we've got 12 fault codes!" So as he shouted them out, I scribbled them down so he could check them with the Trudie Bible. I won't bore you with the details, but none of the faults pointed directly towards the launch problem. You never know though.
Matt then cleaned up the ECU and for the first time in months the engine light had turned off. A good sign, leaving us hopeful. With nothing else that could be done, Matt resealed the electrics. I finished the other bits and Trudie was race-ready by 11. As she ran hot yesterday we decided to remove the baffle, a bit naughty, but what's the use of rules if you don't test them now and again?????
I cooked breakfast for everybody, then we all chilled for a few hours. The race was called so we made our way to the collecting area in good time. We got Trudie sorted with tyre warmers on today and gave Matt strict instructions to stand behind the bike, obscuring the exhaust, just in case. A wise decision, as for some reason the noise test guy was definitely hovering, trying to get a peek. Sarah looked really guilty, Matt was smirking and me? I was trying to ignore the whole thing. He eventually wandered off and we all had a little chuckle, reminiscent of being back in the school playground and moving your feet after the whistle had gone. As a back up though we did take the baffle with us.☺️
The call came and before we knew it, Rik was out on his formation lap and at his respective grid position. We were all very anxious as to whether she'd launch for the warm-up lap. The roar of the engines and away. Yessssss! Rik was with them. Awesome, and we were all high fiving. The start of the race soon came round and all of us were holding our breath with everything crossed. The expectation was almost crippling.
They're away! Is he with them? Nooooooo!!! Lots of expletives. Rik was again chugging away last. We were gutted and could only imagine how Rik was feeling. Credit to him for not just getting off there and then and stomping away. Oh the pathos, it's not fair.
To make matters worse, Trudie coughed and spluttered around for three whole laps not wanting to rev above 10k. By the time she started to rev out, Rik was 25 seconds behind the four-way battle for the lead and second from last. To Rik's eternal credit he kept at it. Slowly but surely catching and passing the other competitors. When he had a clear track he was lapping on the same pace as the leading quartet. If only. Racing is full of 'if only's.
At the chequered flag, Rik was 12th, half a wheel behind 11th and only two seconds off of 9th. If only for another lap or two.???? A really good ride though, I was delighted. Not with the result, but with how Rik is riding now. He says he's really getting to like riding The Triumph. I responded with "there's more to come, I know." He confirmed this. So roll on Pau Arnos.
We went back to the truck and waited for Rik's return. It was taking too long so Sarah and Matt set out as a search party. I stayed and had a cuppa. After another 5 minutes Rik came back, we put Trudie on the rear stand and he told me what had happened. The noise test guy metered him when he came in and was a little miffed at the result of what he found. Rik thought he may get DQ'd. Now this turn of events is quite puzzling, as Trudie is not louder than any other 600 out there. If she was, a black flag would've been put out, and Rik would then be required to come in and leave the race. That didn't happen and noise testing him after the race was pointless. Headmaster having the last word.???? We heard nothing more and 12th place remained our official finish.
Apart from the launch and first three laps, Trudie ran sweet and came in with the fan in full swing, so that works now. There was nothing left to do save pack up, get home and prepare for Pau Arnos in a fortnight. The following day Matt ran a diagnostic which showed up one fault code, P0500. In turn, this lead Matt straight to something called a speed sensor. With a little digging, it's directly linked to 'the launch'. A new one has now been fitted. ????