Haute Saintonge 23/24/25 July – Part 2 – Friday Test Day
The day was just about perfect conditions. Bit of blue sky, bit of cloud, only twenty-odd degrees with no threat of rain and a great little circuit to learn. We had five sessions throughout the day with each of our sessions only split by forty minutes, apart from a three-hour break over lunch. Leaving not much time for any major changes if needed.
For some reason the sessions were set by previous lap times and not machine category, I plumped for the middle which equated to a time of between 1.01 mins and 1.05 mins per lap. This was the right choice initially, but our group didn't include any other 600s, oh well, it is what it is. ????
We lost the first ten minutes of the inaugural session as Trudie failed the noise test, not surprising as the guy wasn't doing the test correctly. She is loud though at the 6800 rev limit for the test. After the deployment of the exhaust baffle Rik was on track for his first taste of Haute Saintonge.????
The track is only 2.2kms in length, meandering its way through the valley with two short straights. We could see he felt immediately comfortable giving me hope of a possible podium, I kept that to myself though. I was also hoping the race tyres from Carole would last the day as it would be great to start qualifying on new tyres that will last the whole weekends' activities. In this case, my plan was to run slicks as they're permissible with the CLNA and the top runners in our class use them.
Rik came in happy, reporting he liked the circuit with Trudie feeling bang on, although this may change when he 'pulls the pin' so to speak. I timed the next session, again only ten minutes as there was a red flag incident, but Rik returned with a best of 1.04 mins, without much trouble by the looks of it. Tyre wear was also good with only three sessions remaining in the day.
All was happy in the Cigma Racing camp, until Matt plugged in the ODB reader. Nothing but a blank screen. I left him and Rik to it to cook our traditional English fayre of a fry up. The boys' choice is a fried slice with theirs, I prefer toast. There was much consternation and puzzlement coming from the other side of the awning whilst I was cooking, as no matter what they tried the blank screen didn't change. For now, they gave up and after brekkie, Matt and I checked over the Triumph whilst Rik had a snooze in preparation for the third test session. We concluded that with further investigation, "something would turn up ". 
The afternoon passed without a hitch, the tyres held on fine, Rik looked pretty damn good and a best lap of 1.009 was recorded, very nearly 59 seconds. Excellent. After our last session, I stayed in the pit lane to time the opposition and see where we're at. I was pleasantly surprised to be timing the fast 600s all within half a second of Rik's best lap. "This could be the breakthrough," I said to myself. I did report this news to the team back at the ranch.
It was now time to prep Trudie for scrutineering, which didn't take long. Matt and Rik did the honours as I'd planned a little snooze. I didn't get that far as within ten minutes Matt, slightly out of breath, came back asking if we had any bits of foam to go in the tank, "bugger !!!!! It's at home in a plastic bag, sorry I forgot about it." I was hit with a barrage of Welsh sarcasm, which made us laugh but didn't alleviate the problem. Rik had returned by now so we put the Triumph on her stands and called Sarah, in the hope she hasn't left home yet. She hadn't so volunteered to go by my house and pick it up, sorted. Scrutineering would have to wait till the morning.
Rik has had his clothing checked and passed though, so not a complete disaster. My snooze time had passed, so we set to work on Trudie, wheels, fairing, seat unit and tank off exposing the diagnostic plug and all the wiring so that Matt could have another look at firing up the diagnostics. I went in search of some new rubber, relishing the thought of Rik on slicks again. I've so many happy memories of when we used them on the Honda 400 way back in the pre- Isle of Man days.????
My joyous mood was short-lived as upon arrival at the tyre place, I was informed there were no Dunlop Tyres only Pirelli. Ok "pas grave," I said, then asked if I could have a set of slicks. The response was positive until he searched for a rear tyre. Nope, only the next size up which will be too wide. When this happens I must admit to becoming a little grumpy, I'm old and like to get my way, I've earned that privilege haha!!! Ok, Pirelli Super Corsas it is. They're as good if not better than the Dunlops we've been required to use previously.
Now this club, runs a championship within the championship, sponsored by Dunlop, to promote Dunlop Tyres. It's so typically French that Dunlop are not present to sell their wares. Rik is 2nd or 3rd in that Championship but won't add to his points tally this weekend. This didn't relieve my grump which was then multiplied by a factor of ten when the Racing card was refused four times. This was after the tyres had been fitted, causing quite a queue and much embarrassment from yours truly. I stomped off back to base in search of cash, leaving the wheels fitted with the new Pirellis at the tyre place.
I was not a happy bunny, failed scrutineering, no Dunlops, no slicks and card failure. I hate racing sometimes…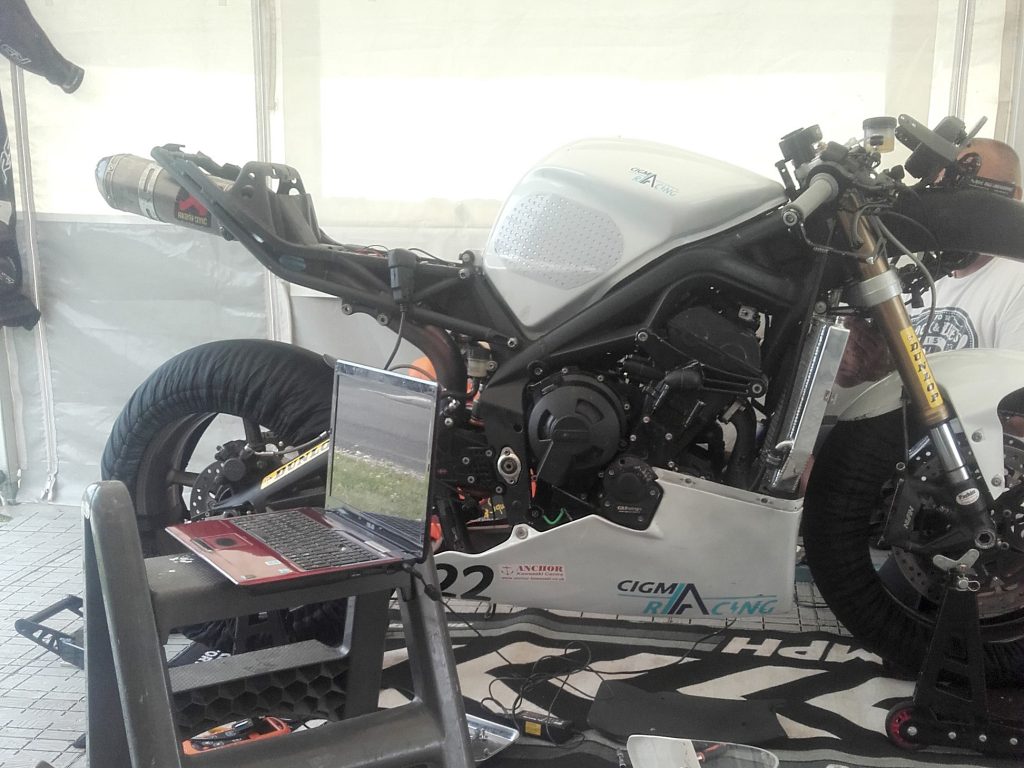 Meanwhile Matt had had no success in talking to Trudie and was re-checking all of his IT stuff, so a bad half-hour all around. The Team does have a little cash envelope for just such occasions and serviced with a little loan from the Bank of Mathew, sufficient funds were scraped together so I quickly returned to pay for the tyres. Before parting with the cash, I tried one of my French cards "et voila," it bloody worked. Strange happenings in the universe.
With a  lift in my mood, I went back to base for a cuppa. One of our neighbours in the paddock, was also running a Triumph and had big problems getting her to run sweetly. We'd been lending him a few bits and pieces throughout the day and finally had traced his problem to an injector. Somehow he'd sourced one and it would be delivered to the paddock the following morning in time for our qualifying session at 10.20 am. We asked if it was possible to plug into his bike, he agreed. Matt's stuff fired up and was reading his ECU. Something eliminated at last. The problem was pointing towards Trudie. This guy also has his own ODB  reader but not with him so he made a call and it would arrive with his injector. We needed to check the system with another reader, just to make sure the problem was with our Triumph.
There was nothing else to be done for now concerning the electrics, we'd have another look tomorrow. As both Matt and I were struggling with our respective ailments, we just gave Trudie a clean up leaving the final prep until the morning. Sarah had arrived by now so after I'd popped a couple of pieces of foam in the tank, I cooked dinner. Beef stir fry.????